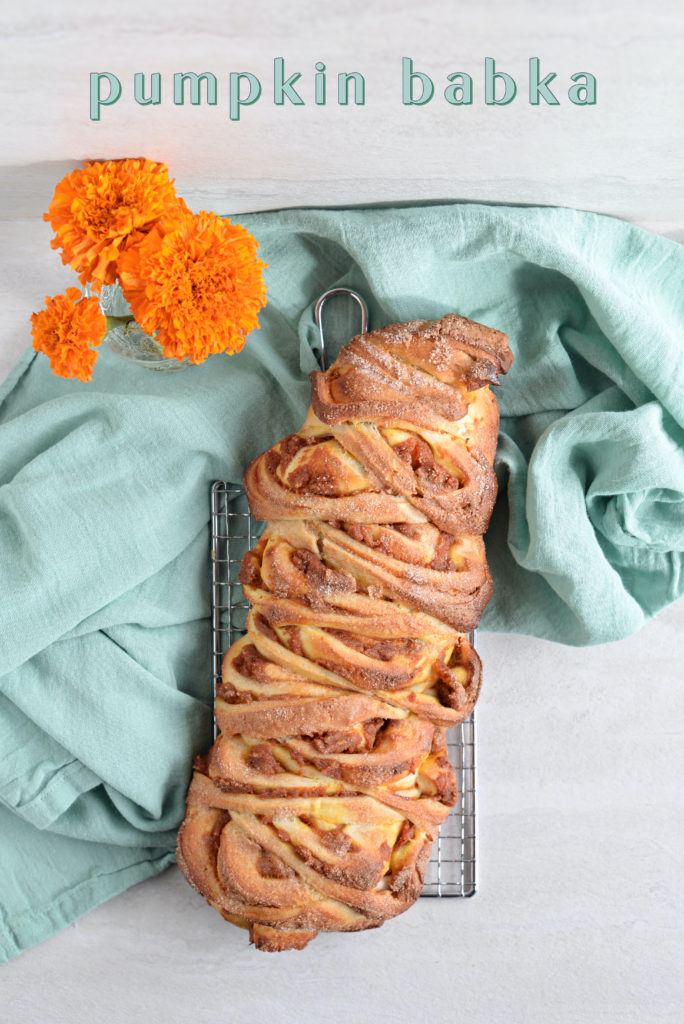 My addiction to TikTok is what led to this beautiful babka! I saw someone using scissors to make this design and since I'd never tried it before, I knew it was bound to happen. Of course since Thanksgiving is coming up, the filling is classic sweet pumpkin and it came out absolutely perfect!! You can, of course, make a traditional babka shape and it will taste the same, I promise! Click HERE to watch me make this design on TikTok.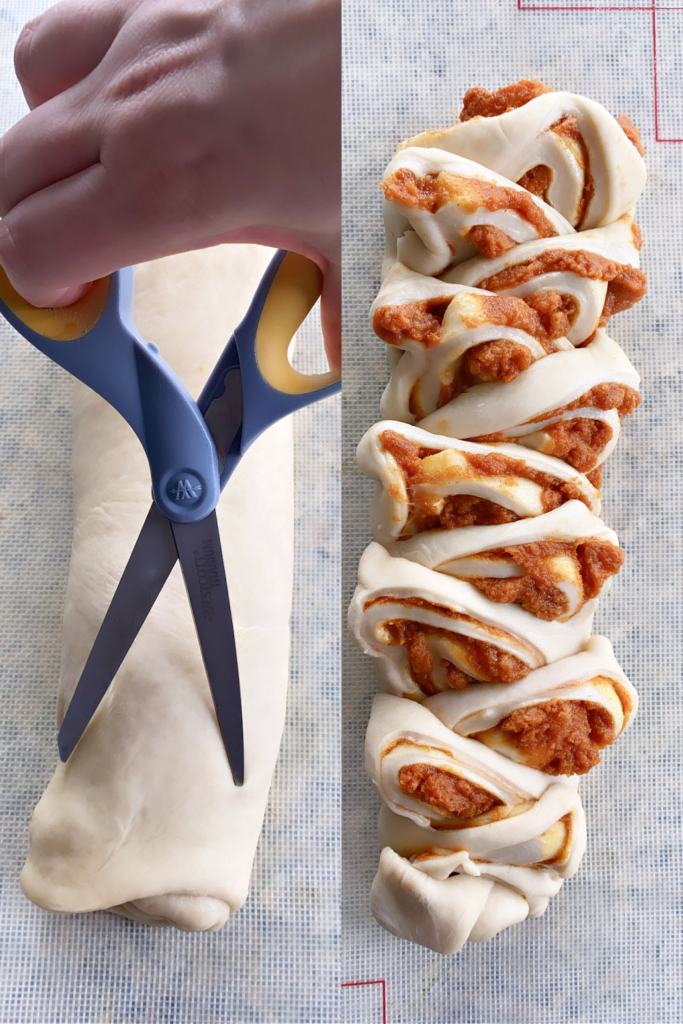 Print
Pumpkin Babka
Babka or Challah Dough
1 egg (for egg wash)
1/4 cup sugar + 1 tsp cinnamon
Pumpkin Filling:
15 oz can pumpkin puree
1/2 cup brown sugar
1 tsp cinnamon
1/2 tsp ground cloves
1/2 tsp ground nutmeg
1/2 tsp salt
1/2 package vanilla (or chocolate) instant pudding powder
Instructions
Preheat oven to 350°F. and line a baking sheet or loaf pan with parchment paper.
Mix the pumpkin puree, brown sugar, cinnamon, cloves, nutmeg, and salt together in a small bowl.
Roll out the dough into a large rectangle. Spread the filling all over the dough, leaving about an inch bare around the border, then sprinkle the top with the pudding powder.
Roll up the dough into a log and cut the log in half so you have two shorter logs of dough.
At this point, you have so many different ways to shape your babka. The most classic is to twist the dough logs around each other. Slice the tops of the dough lengthwise to expose the inside of the dough. Place in the loaf pan, brush with egg wash and bake.
To make the design in this post, transfer the two logs of dough to the baking sheet. With clean scissors, cut a notch at the start of one dough log at an angle and pull the snipped part out to one side. Cut again and pull the cut part out to the other side. Continue all the way down both dough rolls so that the pieces lie alternately on each side. Cover and let them rise for about 30 minutes.
Brush the dough with egg wash and sprinkle with the cinnamon sugar mixture. Bake for 25-30 minutes, until the crust is golden.