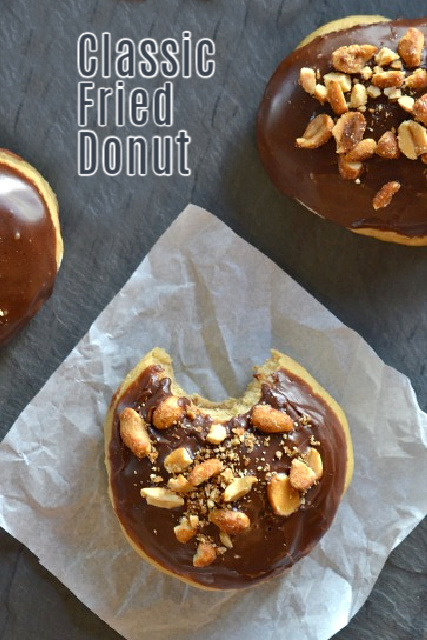 When I first started my blog, I created a baked donut recipe that went viral! It turns out, people really do love finding ways to make their desserts just a little bit healthier. But don't worry, I still love the classics and frying donuts in oil is what Chanukah is all about, right???
Print
Classic Fried Donuts
Author:
Yield:

2

dozen donuts

1

x
1 1/2 cups milk (soy milk, almond milk or rice milk work too)
1/2 cup butter (can use vegan butter)
4 1/2 tsp (2 packets) active dry yeast
1/3 cup warm water
2 large eggs, beaten
1/4 cup sugar
5 cups all-purpose flour
1/2 tsp kosher or sea salt
Instructions
Warm up the milk and butter together in a saucepan over medium heat until the butter is completely melted. Place milk mixture in the fridge to cool to lukewarm.
While the milk mixture cools, sprinkle the yeast over the warm water, sprinkle with 1 tsp of sugar, whisk and let it dissolve for 5 minutes. The top has a layer of foam when it is ready.
In a stand mixer, incorporate the milk mixture with the yeast mixture. Add the eggs, sugar, half of the flour, and salt. Using the paddle attachment, combine the mixture on low-speed until the flour is incorporated and then turn the speed to medium and beat until well combined. Add the remaining flour and beat well. Change to the dough hook attachment on the stand mixer and beat on medium speed until the dough pulls away from the bowl and is very smooth, around 3 to 4 minutes. You want the dough to be a bit sticky since it will make for a lighter doughnut.
Transfer the dough to a well-oiled bowl, cover and let it rise for 1 hour. Once it doubles in size, punch down the dough, cover, and let it rise for 1 more hour.
When the dough is ready, heat the oil (canola and vegetable are fine) in a heavy bottom pot with a thermometer attached to keep track of the temperature. You want the oil to be between 325 and 350 degrees F. Have a wire cooling rack lined with paper towels and a slotted spoon ready next to the pot. Roll to ½-inch thick on a lightly floured surface. Cut out rounds using a 2½-inch wide drinking glass or cookie cutter. Start by frying one donut for around 1 minute on each side to make sure the oil is at the right temperature and then continue to fry 3-4 donuts at a time, based on the size of the pot. You don't want to overcrowd the pot or the oil temperature will drop and you will end up with oily donuts.
Remove all donuts with the slotted spoon and place on the paper towels to drain. Once the donuts have cooled, fill and top to your hearts desire!