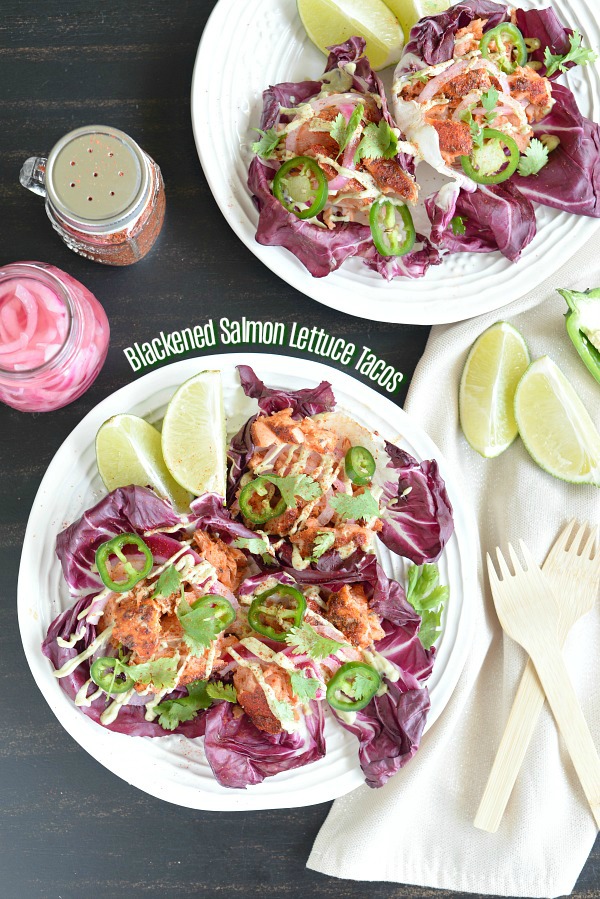 This blog post means so much to me that even as a write it, I'm nervous about what I want to say. I'll start with a little history; I was born and raised in Seattle, Washington. I consider myself a Northwest girl for life! When we were kids, we used to go to a trout farm and that's where we learned how to fish. The thrill of catching those little trout, reeling them in and putting them in the buckets. Feeling that childlike excitement as the trout were gutted and we got to hold the little hearts in our hands. Side note: I've even taken my kids back to the farm and they loved it too!  We would bring the trout home and my dad would grill them for dinner. There is seriously nothing like eating something you caught just a few hours before! When we got a little older, we would go boating on Lake Washington and catch our fish out there. We wouldn't always keep the fish (lots of laws about what you can keep and take home) but the thrill of fishing stuck with me. The way you wait patiently on the boat with the bait deep in the water, the feeling when a fish is on, the fight as the fish swims all over the place and you try to keep up, that feeling when the fish gets close enough that you can see how big it is, and that moment when you bring it in to the boat and everyone is high-fiving and celebrating.
In 2001, fishing went to the next level for me. My father partnered with a nice Canadian dude in British Columbia to open a fishing lodge in the middle of nowhere on the West Coast of Canada. Nootka Wilderness Lodge. When I say the middle of nowhere, I mean that the lodge itself floats on the water and is attached to land with ropes. I mean that the quickest way to get there is by flying in a sea plane and landing in the water right in front of the lodge. I mean NO WIFI (or at least minimal spotty WiFi). Well actually, back when my dad opened the lodge, there were no smart phones and Facebook didn't exist so not having WiFi wasn't such an issue…but it's still the same way now. The lodge is a getaway for people to escape from work and obligations for 4 days. You wake up, you fish, you eat, you drink beer, you sleep; then you do it all over again. Before the lodge officially opened, my dad took me with him to check out the space, do a little fishing and just relax. Clearly I'm his favorite, right?!? There's even a picture of me with the first fish ever caught at the lodge and I am so proud of it! Since then, I have been back 5 more times and each experience is better than the one before it. I love the feeling of the trees all around me, bears walking the beach, whales breeching, seals and sea lions searching for their next meal (and sometimes stealing ours), and bald eagles flying all around us. Besides the fishing, I think my favorite thing to do at the lodge is feed the eagles. We throw cod out to them, they blast from the trees with their massive wings and fly down to pick up the fish with their huge talons. It's such a rush and I will never get over the excitement of it.
I am sharing all of this with you because I just got back from Nootka Wilderness Lodge with my parents and the trip was as good as it's ever been! Just me, my mom and my dad, sitting on a boat for 8 hours, bringing in some 20-25 pound salmon, sometimes chatting, sometimes quietly taking in the sounds of the world around us. What do we do with all that salmon??? We have it filleted, vacuum packed, flash frozen and shipped right to us. Wild-caught salmon in the palm of our hands and I am very grateful for that. No hormones, no force feeding, no farm raised fish, no dyes to change the color of the flesh (yup, that's what happens to farm raised salmon, even "organic" farm raised). My family loves to prepare the salmon in a million different ways and my favorite is when my dad hot smokes it. I can't even begin to describe the aroma and flavor when the fish comes out of the smoker! In my house, we like to cook the salmon in the oven in a whole bunch of different ways; with spices, lots of fresh citrus, topped with pesto and crushed pistachios and so much more! My latest recipe, which I'm sharing in this post, is blackened salmon tacos with a homemade spice rub. You can certainly use tortillas if you want but I love lettuce tacos so that's how I served them. And hey, if you don't want tacos at all, just make the blackened salmon and serve with whatever sides you like. Just do yourself a favor and get your hands on some wild-caught salmon. Ask your fish monger for guidance.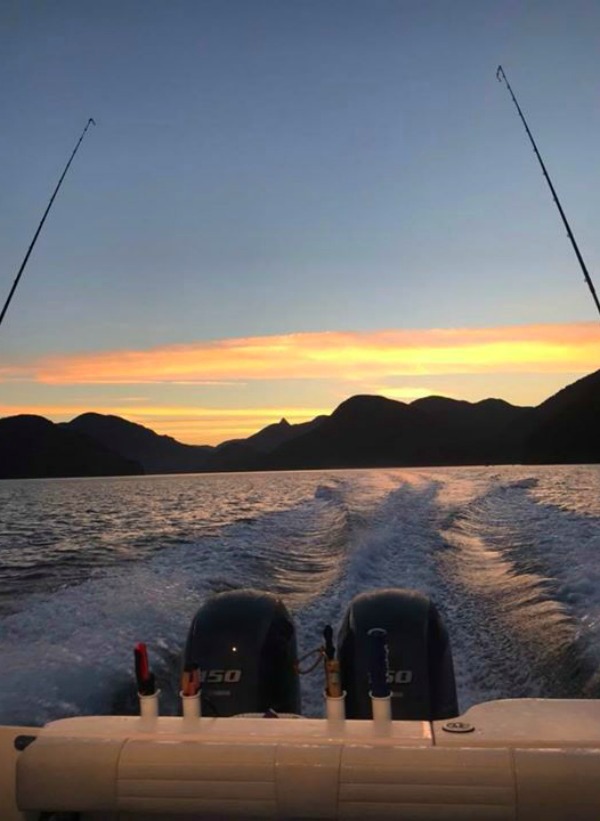 We start our mornings very early (usually leaving the dock at around 5:30am), which means we get to watch the sun rise over the mountains as we drive out to the open waters. This is the quietest part of the day and now I really understand why people meditate with their thoughts in the morning. It's a chance to set your intentions for the day, get your mind right, breath in the air around you and then go for the gold.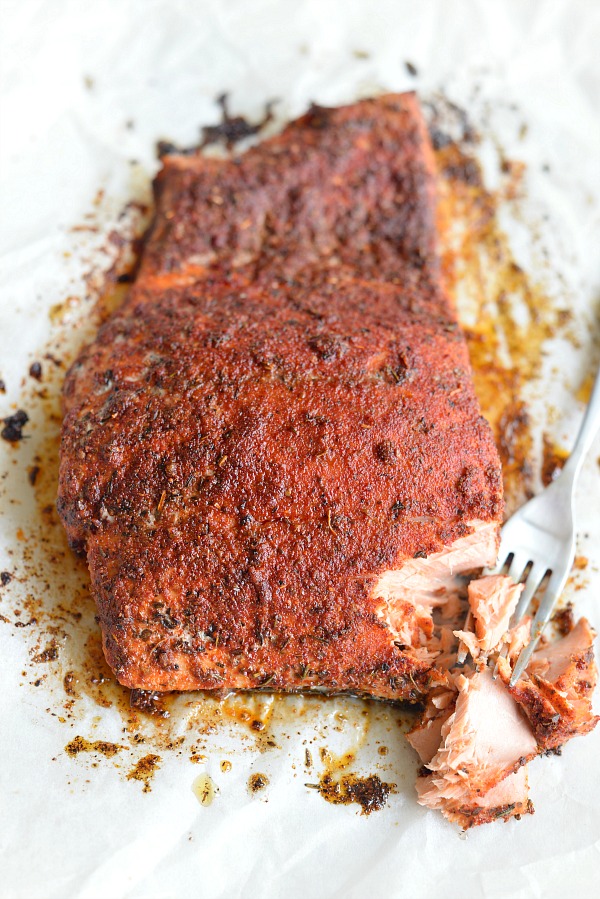 This salmon is like no other! And if you think you won't taste AND see the difference between wild-caught and farm-raised, I encourage you to look again.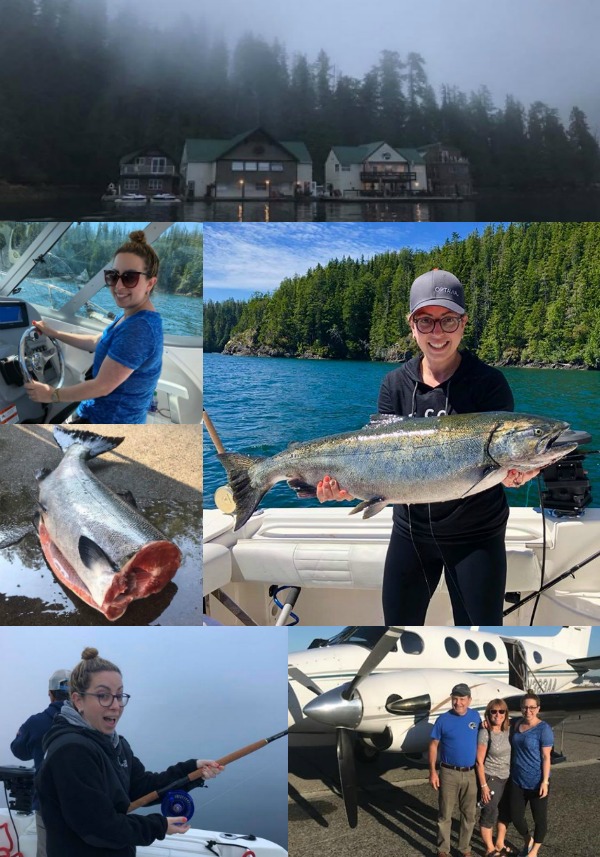 Yup, that is some big salmon!!! We usually catch 20-25 pound salmon at the lodge and they give us a run for our money. If you've ever been fishing, you probably know this sound and know it well: zzzzzzzzzzzzzzzzzzz! That's the sound of the reel spinning as the fish takes the bait and swims REALLY fast away from the boat. It's one of my favorite sounds and it is so satisfying! It means you are in for a great fight!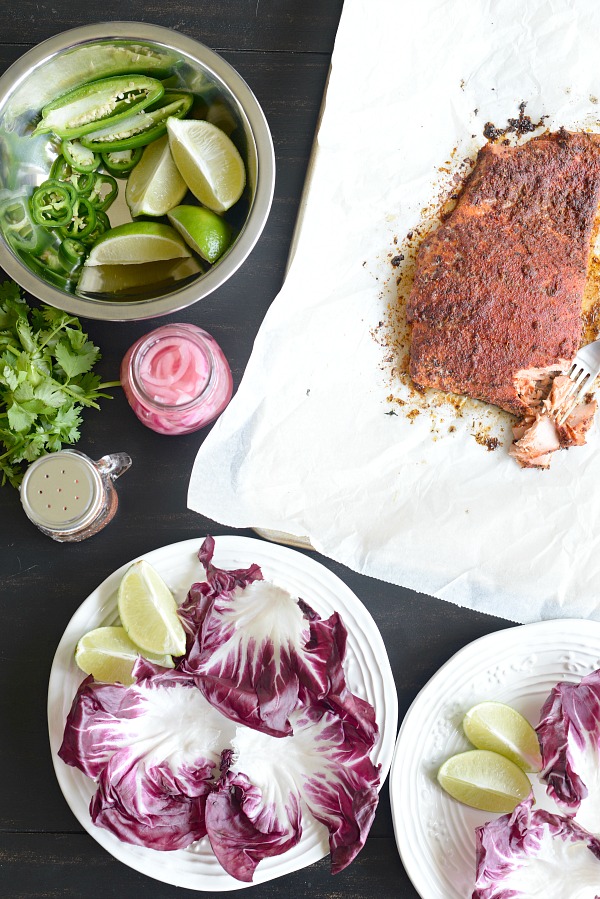 When it comes to serving salmon, you always want to have tons of fresh citrus on the plate. Lemon and lime are definitely the most popular and squeezing the fresh citrus all over the cooked salmon brings the flavor to a whole new level. I also added pickled onions and jalapeños to my tacos for a nice bite and crunch. Some other toppings include cole slaw, fresh mango, pico de gallo, fresh tomatoes and avocados. I also recommended using a sauce or sour cream to top it all off.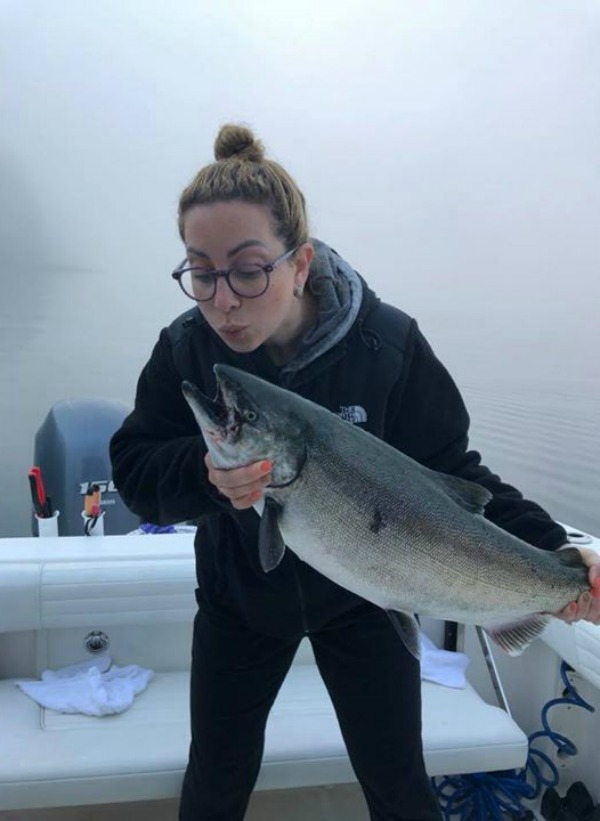 No, I didn't actually kiss the fish but I was pretty darn close! I know it looks like I'm easily holding this fish right now but those suckers are slippery! I may or may not have dropped her in the boat…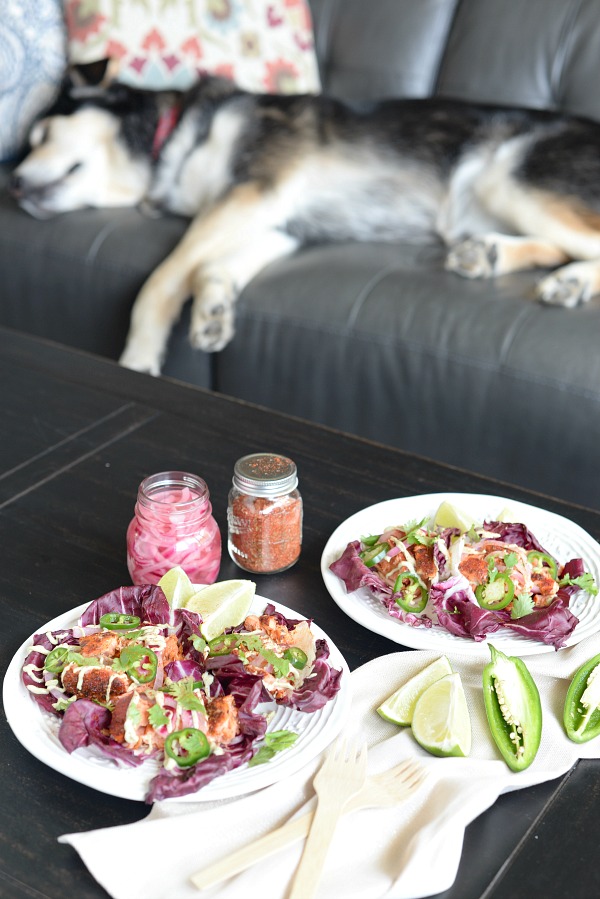 While I was gone on my adventures, I definitely missed my family and the pup so much! Tons of people on Instagram asked me about my husband and my kids while following along on insta-stories but they were very well taken care of while I was away. I am so thankful to all of you for caring about me and being a part of my journey.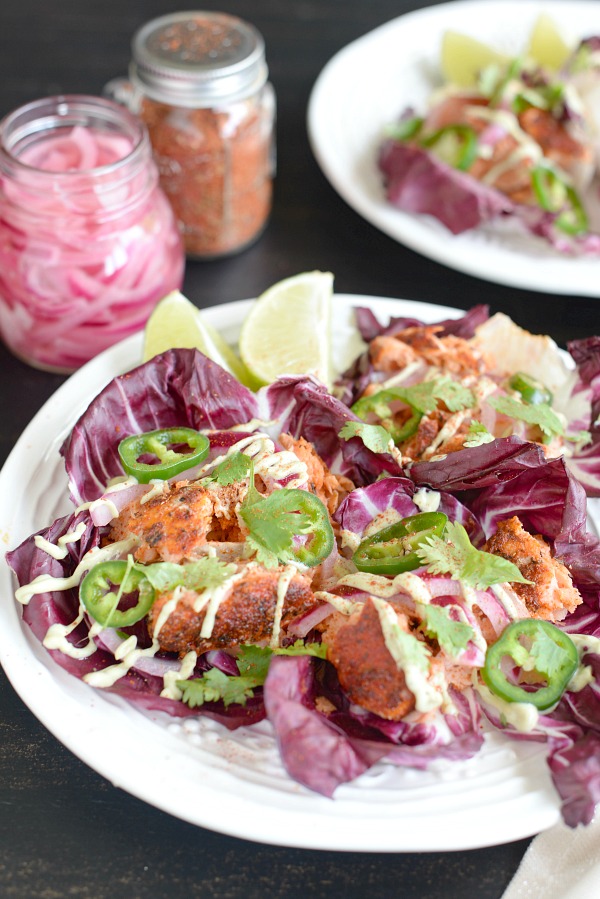 Print
Blackened Salmon Lettuce Tacos
2

–

3

pound salmon, skin on

1 Tbsp

olive oil

2 Tbsp

blackened seasoning *recipe below
lettuce cups; bib lettuce, butter lettuce, red cabbage, radicchio
Toppings
avocado cream *recipe below
pickled red onions *recipe below
fresh limes
sliced jalapenos (pickled or fresh)
Blackened Seasoning
2 Tbsp

smoked paprika

1 Tbsp

dried oregano

2 tsp

salt

1 tsp

black pepper

1 tsp

garlic powder

1 tsp

dried thyme

1/2 tsp

cayenne pepper
Avocado Cream
1

ripe avocado

1/4 cup

sour cream

1

clove fresh garlic, minced

2

–

3

Tbsp fresh lime juice

1/2 tsp

salt
Pickled Red Onions
1

medium red onion

2 cups

water

1/4 cup

apple cider vinegar

1 Tbsp

sugar

1 tsp

salt
Instructions
Blackened Seasoning: mix all spices together in a bowl. This recipe makes more than you need for the salmon so save the rest in a glass jar to use on practically anything you can imagine.
Avocado Cream: blend all ingredients in a food processor for a smooth cream. You can also mix by hand and add extra lime juice if you want a looser sauce for the tacos.
Pickled Red Onions: Combine the water, vinegar, sugar and salt in a small saucepan. Bring the mixture to a boil over high heat to dissolve the sugar, remove the saucepan from the stove and add the sliced red onions. Stir once then set the onions aside to cool. Once cooled, the onions are ready to eat. Refrigerate any leftovers and they will last a few weeks in the pickling liquid.
Blackened Salmon Lettuce Tacos:
Preheat the oven to 400 degrees f. and place the salmon, skin side down, on a baking sheet. Drizzle olive oil on the fish then top with a few tablespoons of the blackened seasoning to coat. Bake for 15-20 minutes.
Fill each lettuce cup with broken up pieces of the cooked salmon (can be cooled or served warm) and top with avocado cream, pickled red onions, jalapenos, cilantro and serve with fresh lime wedges.