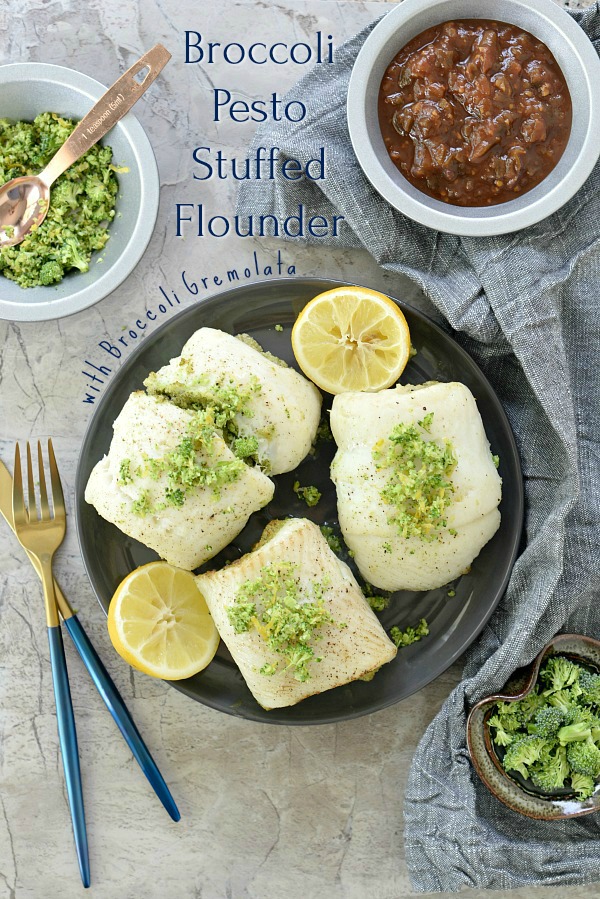 I have a serious thing for pesto and you can pretty much 'pesto' anything these days! I've made spinach pesto and kale pesto so I figured it was time to throw broccoli pesto in the ring. This flounder recipe is so darn healthy and delicious and I love the broccoli twist. Broccoli on the inside, more broccoli on the outside, and TONS of fresh lemons! The gremolata has also been turned on it's head with fresh broccoli instead of herbs like parsley and cilantro. Like I said, broccoli everywhere!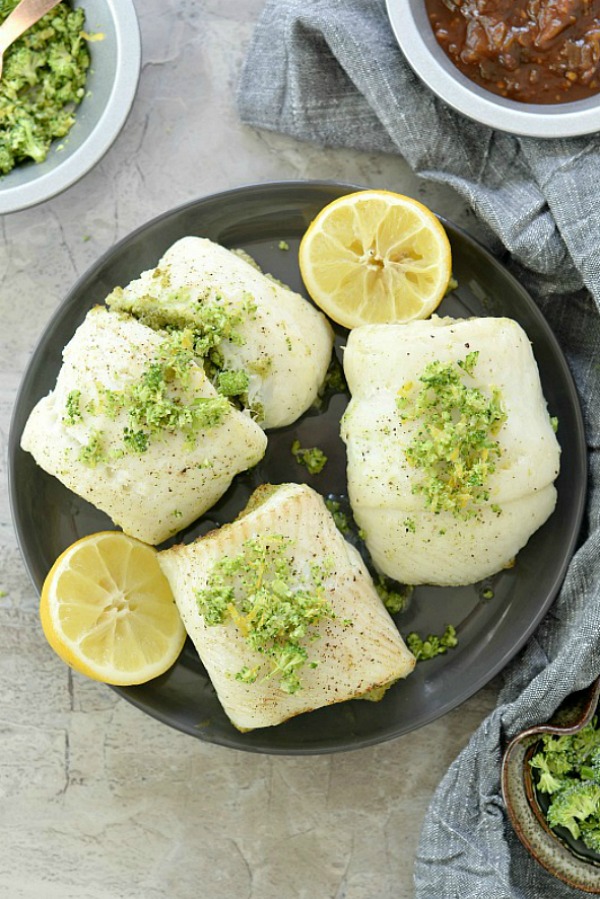 Broccoli Pesto Stuffed Flounder with Broccoli Gremolata
4

flounder filets
olive oil
fresh lemon juice
salt and pepper, to taste
Broccoli Pesto
4 cups

fresh broccoli florets

1/4 cup

lemon juice (from

1

–

2

lemons)

1/4 cup

olive oil

1

clove garlic

1/2 tsp

salt
Broccoli Gremolata
2 Tbsp

finely chopped broccoli

1 tsp

lemon zest

1/2 tsp

mined garlic

1/2 tsp

salt
Instructions
Preheat oven to 400 degrees F. and line a baking sheet with parchment paper.
In a food processor, finely chop the fresh broccoli. Remove 2 tablespoons of the chopped broccoli for the gremolata. Add the lemon juice, olive oil, garlic and salt to the food processor and blend until thick and creamy. You want to see small pieces of broccoli in the pesto.
Lay out the flounder filets on the baking sheet. Spread the broccoli pesto evenly from end to end on each piece then carefully roll up. Make sure each roll-up is seem side down. You can also leave the flounder flat and bake as is.
Top the flounder roll-ups with a drizzle of olive oil, lemon juice and sprinkle with salt and pepper. Place a few halved lemons on the baking sheet, flesh side up. Bake for 20-25 minutes, until the flounder is cooked through.
Separately, make the gremolata by mixing together the 2 tablespoons chopped broccoli with lemon zest, garlic and salt and top the baked fish before serving.