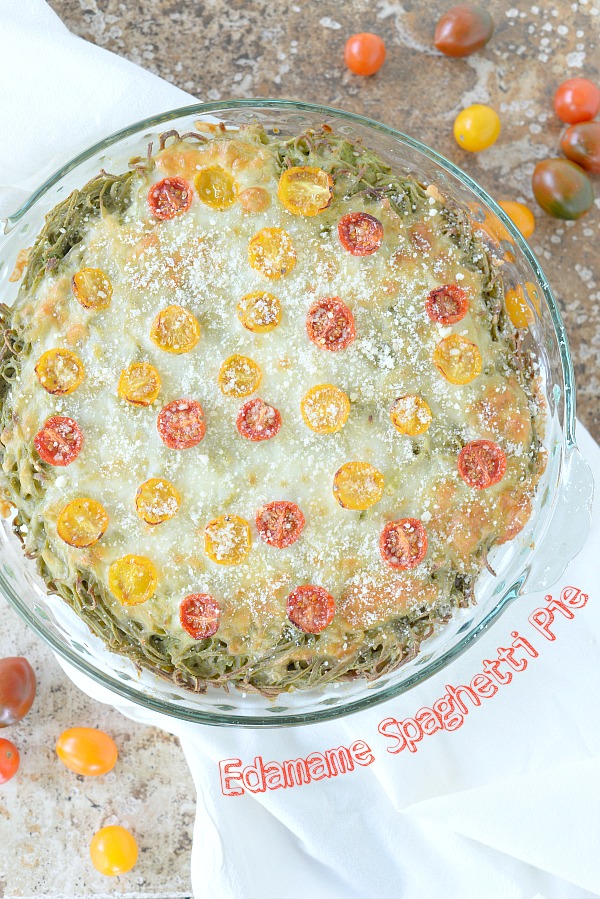 I've been holding on to this recipe since 2015 and it's time I finally share it with the world! I wasn't hiding it or anything…I just never got around to photographing it and I am truly sorry that I waited this long. This dish is one of my sons favorites and I like to make a 2-3 smaller casseroles with this recipe to freeze so he always has it when he's in the mood. Spaghetti Pie is such an indulgent dish and I love that the edamame spaghetti makes it healthier, more nutritious and adds a wonderful flavor. I added the tomatoes on top to bring a bit of acid and texture to the dish and doesn't it look pretty???? You can certainly leave them off or add other vegetables on top like thinly sliced zucchini and mushrooms. The opportunities to dress up this recipe are pretty much endless and it's just so dang delicious!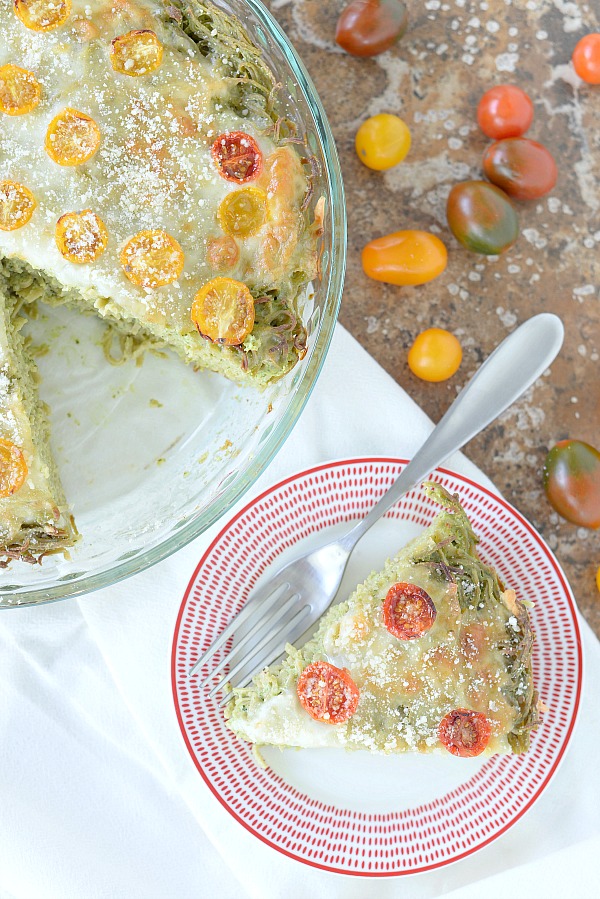 Edamame Spaghetti Pie
1

lb. dry edamame spaghetti

1/2 cup

pesto (nut-free spinach pesto recipe below or use store-bought)

15 oz

. low-fat ricotta cheese

1/2 cup

grated parmesan

2

eggs

1/2 cup

shredded mozzarella

1/2 cup

sliced cherry tomatoes
Spinach Pesto
2 cups

fresh spinach

2

cloves garlic, chopped

1/2 tsp

salt

1/4 tsp

pepper

1/2 cup

extra virgin olive oil
Instructions
Preheat the oven to 375 degrees F. and grease a casserole dish with cooking spray. This recipe makes one large rectangle pie or two smaller 8-inch round pies.
To make the edamame spaghetti, boil 8 cups of water over high heat, add a heaping pinch of salt and add the spaghetti. Boil for 4-5 minutes, until soft and cooked through then drain.
While the edamame spaghetti is cooling, blend the fresh spinach, garlic, salt and pepper in a food processor until finely chopped. With the food processor running, slowly drizzle in the olive oil until a thick pesto is formed. If you want to use store bought pesto, measure 1/2 cup of pesto for this recipe.
Stir the pesto with the ricotta cheese, parmesan and eggs.
Add the cooked edamame spaghetti to the ricotta mixture and stir to combine. Pour the spaghetti into the prepared casserole dish then top with the shredded mozzarella and the cherry tomato slices.
Bake for 30-40 minutes uncovered, until the cheese is melted and the pasta is toasted around the edges. Serve hot and enjoy!