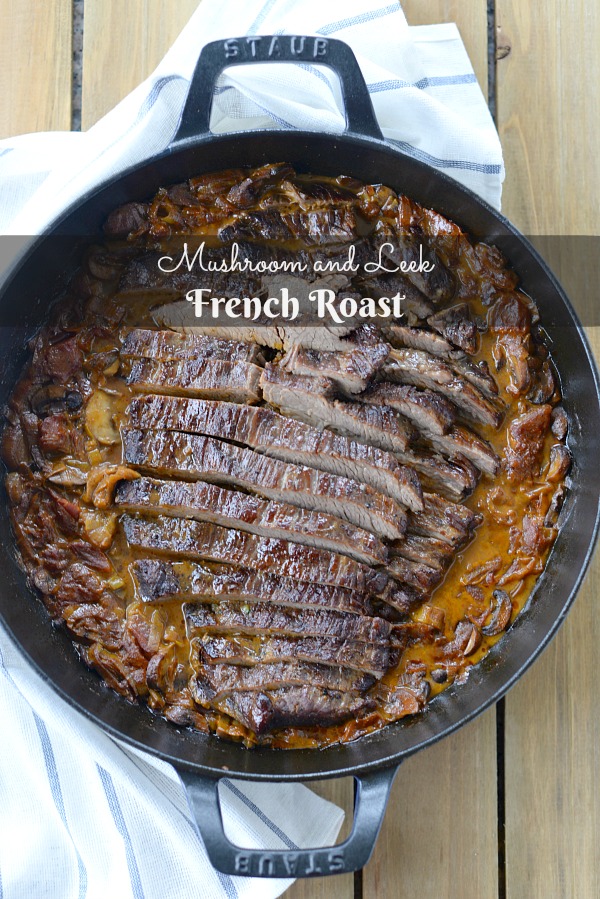 I was seriously just making this recipe up for Shabbat and then this blog post happened! Thank goodness I wrote down some notes as I was cooking because the recipe came out so dang good that I pulled out the DSLR and started taking pics! I'm a huge fan of braised roasts because you cook it low and slow and the meat always turns out so tender and flavorful. I always begin by browning the roast (you can use your favorite cut…it doesn't have to be a French roast) in a searing hot cast iron skillet. ALWAYS! I'm a big fan of enameled cast iron because it doesn't need to be seasoned and you can wash it with soap and water. But hey, I still do love a seasoned cast iron pan so whatever you have on hand will work. I will add that when cooking with acidic foods like tomatoes, it's better to use an enameled pan because the acid can cause the iron to leech out. If that's something you are worried about, buy enameled or don't cook with acids in your seasoned cast iron. Totally up to you! Okay, I got a little off track so as I was saying…after browning the meat and setting it aside, I never ever let those yummy brown bits that are stuck to the bottom of the pan go to waste. For this recipe, I added mushrooms and leeks but you can add whatever veggies you have on hand. Then you add the liquid gold. It can be red wine, stock, juice, canned tomatoes, etc. This is what deglazes the pan and picks up all those brown bits I already mentioned. Using a wooden spoon (never metal or you will scratch up your pan), you pick up those brown bits and they mix right into the sauce. So good! Add the meat back in, cover that pot and simmer on low for hours. Low and slow may not be the way I go through life but it's certainly how I like to cook my meat.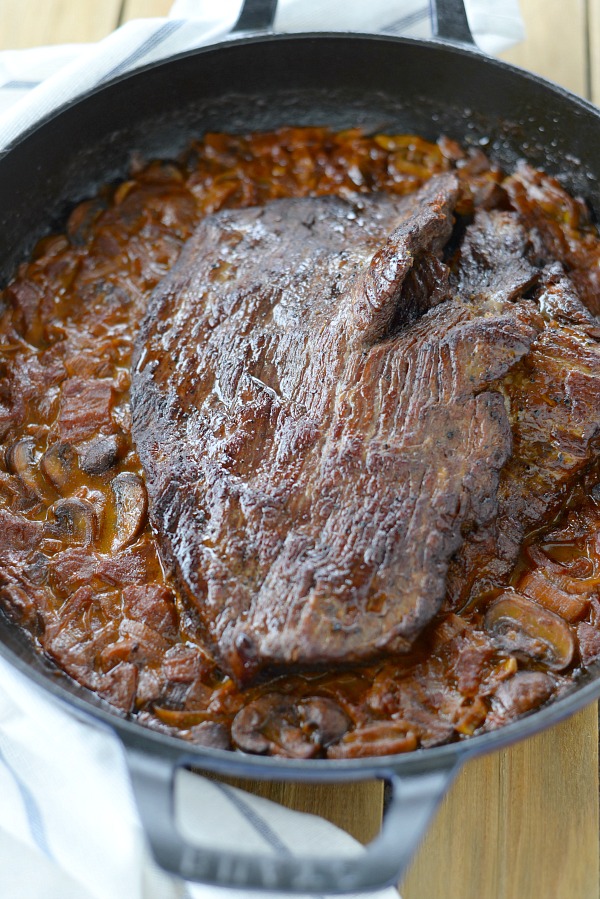 Mushroom & Leek Braised French Roast
2

–

3

pound French Roast

1 tsp

neutral oil

1 cup

sliced mushrooms (use any mushrooms you choose)

2

leeks, sliced and green stems discarded (or frozen to use in stocks)

1 cup

beef broth

1

16-ounce can diced tomatoes

1 tsp

cumin

1 tsp

paprika (smoked paprika is great in this recipe)

1 tsp

garlic powder
salt and pepper, to taste
Instructions
Heat oil in a cast iron pan or dutch oven over high heat. When the oil is very hot, add the meat and brown for two minutes on all sides. Remove the meat from the pan and set it aside.
Lower the heat to medium and add the leeks and mushrooms to the pan. Saute for a few minutes, until the vegetables have softened and are beginning to caramelize.
Add the broth and scrape off any brown bits from the bottom of the pan. Bring the broth to a simmer and add the canned tomatoes, cumin, paprika, garlic powder, salt and pepper. Stir all together then return the meat to the pan. Bring the braising liquid back to a simmer, then reduce the heat to medium-low. Cover the pan with a tight-fitting lid and cook on the stove 1.5 to 2 hours, until the meat is tender and the sauce is thick.
Slice and serve the roast warm but if you want to reheat it later, keep the meat stored in the sauce so it doesn't dry out.