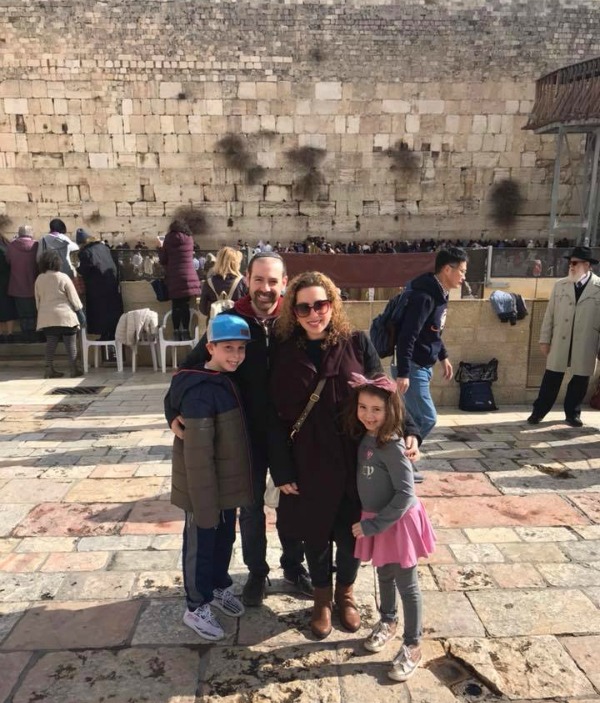 Welcome to Israel! I mean, really, WELCOME TO ISRAEL!!!! It has been 13 years since the last time I stepped foot on Israeli soil. 13 years since I visited my friend during my last year in college to party over Purim (outdoor clubs and backyard guitar sessions with hippies, much?!?). Growing up, I went to Israel with my family, with my 8th grade class for our end-of-year trip, and on 2 summer programs in high school. So yeah, it was definitely time for a revisit. My husband and I decided that we wanted to go with our kids (well, really, I wanted to go without them and have a foodie adventure…) and that we would wait until they were old enough to truly appreciate and remember every second in the Holy Land. So 13 years later, here we are. We were so hesitant to book the trip out of fear for all the work we would have to put in to the itinerary and guiding our kids through an action-packed vacation but we pulled the plug and just did it! I reached out to all of my friends and family who have been to Israel and to my friends that live in Israel for advice on our itinerary and, of course, I asked my blogger friends and chefs for restaurant advice. And then we did it- we called all of the places we needed to book in advance, made a very full itinerary, made a list of the restaurants we wanted to hit and packed! While we were on our vacation, I posted daily on my Instagram stories and I received so many requests for our itinerary that I promised to share it here on my blog. I am so grateful to all of you that watched, commented, shared advice and even mentioned my name when you stopped by some places I had just been. That was pretty awesome! So below, I've included our one-week itinerary with lots of stories, links, suggestions, tips and pics. You can also CLICK HERE to print the itinerary. And hey, I would love some comments on your favorite things to do in Israel that I didn't get to do on this trip because we plan to go back as soon as we can!
The Strauss Family One-Week-In-Israel Itinerary 2018
Wednesday, January 17:
We arrived at Ben Gurion Airport in Tel Aviv at 4:30 pm (*only* a 9 hour Delta flight from New York). Before our trip, we called Menashe Sofer Airport Shuttle Service to arrange for them to take us to our apartment rental in Jerusalem. Let me tell you something…after a long flight, I'll take any small luxury and knowing we had a van waiting to drive us to the apartment without any trouble was tremendous help! Menashe Sofer: sales@msopherairport.com, www.msopherairport.com, +972 2 533 3425
We rented an apartment in the Jerusalem Gold Residence: We decided to rent an apartment for the week because the prices were similar to staying in a hotel and we really wanted the space (and bathrooms) to sprawl out. Sure, we didn't have the big hotel Israeli breakfast but we went out every day to try something new and there just happens to be an Aroma and Roladin around the corner from the apartment. The Jerusalem Gold, which you can rent through many websites online, is literally a 10-15 minute walk from the shuk, the kotel, the Mamilla Mall and only 5 minutes to Ben Yehuda and TONS of restaurants. There's a 24 hour doorman and elevators (one also becomes a Shabbat elevator, which is nice when you're staying on the 7th floor). I highly recommend renting in this building!
We shopped at Supersol (next to the Plaza) for some basics to keep in the apartment: chocolate milk in a bag and kinder eggs, of course.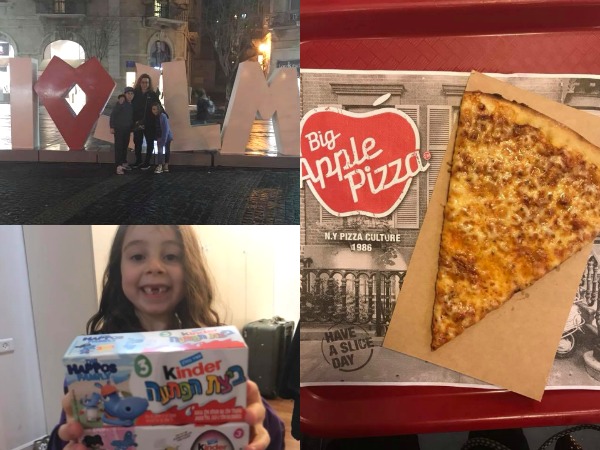 DINNER: We walked to Big Apple Pizza after settling into the apartment because this is my favorite pizza on the planet and it holds so many memories for me…and the kids wanted pizza. Nothing like thin crust pizza on cardboard.
Thursday, January 18:
BREAKFAST: Got my first coffee at Aroma. And then proceeded to get coffee at Aroma every morning to start the day. But most importantly, we went to Kadosh! If you don't go to Kadosh, you are missing out on the most incredible pastries in Jerusalem.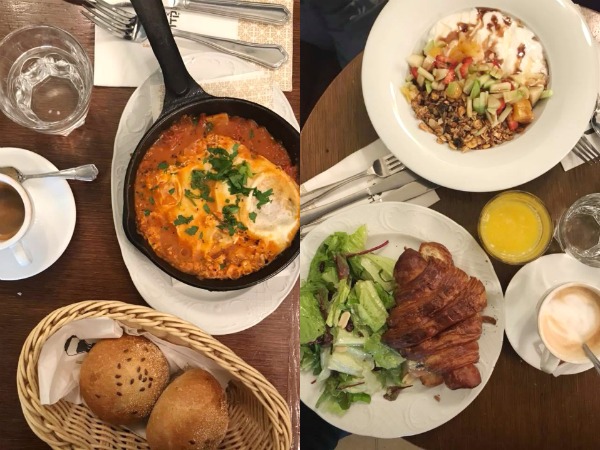 Yup, I said it. And the food is pretty dang good also. Big Israeli breakfast for the win!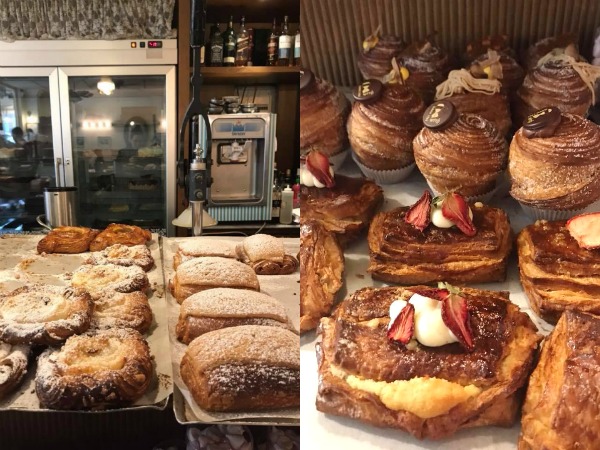 After breakfast, we walked to Old City and to visit the Kotel. We also booked a Kotel Tunnel Tour, which was fascinating and it's incredible to see below the ground we traditionally stand on.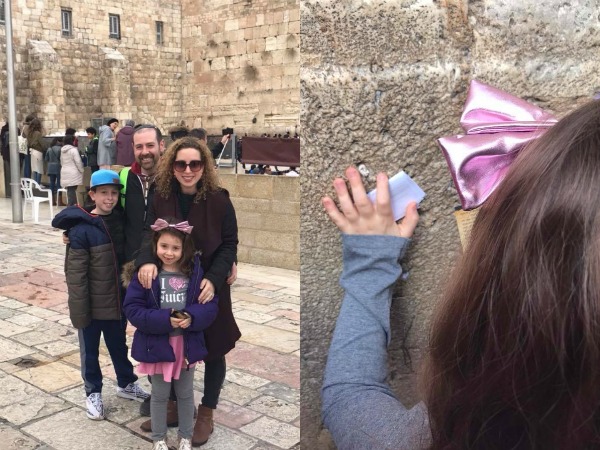 *for lunch, we hit up a few spots in the Old City (pizza, pasta) but nothing to post about.
Snappling: Wow, what an experience!!! We repelled off the walls of the Old City and even tried some rock climbing. Definitely a unique experience and beyond worth doing. Reach out to Yaakov Chanab to book your Snappling expedition: +972 52-893-8921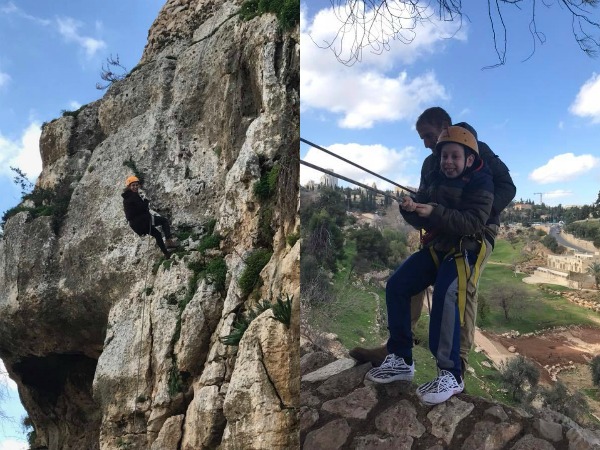 DINNER: Crave in Mahane Yehuda. Definitely lived up to the hype! We went early b/c Thursday nights get crazy packed but let me tell you something…Crave is probably the most popular kosher restaurant in Jerusalem right now so if there's a wait time when you get there, just hang out, have a beer and be patient because you want to eat there.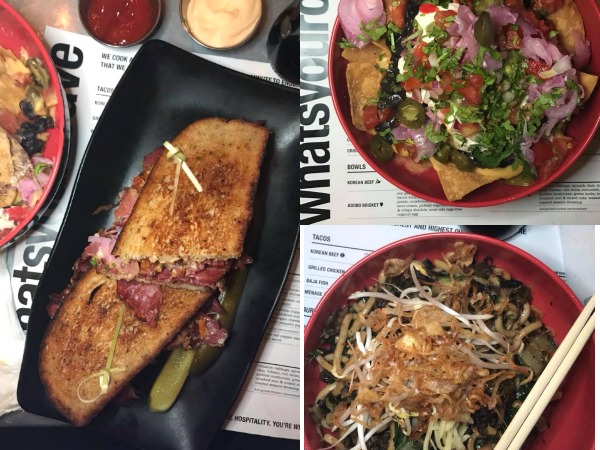 Friday, January 19:
BREAKFAST: Green Good Food Cafe on HaKeren HaKayemet. Bagels, muffins, salads, ginormous cookies and cinnamon buns. American food done right!
We walked to Mahane Yehuda and the shuk…oh, and got stuck in a crazy hail storm. The shuk on a Friday is something everyone visiting Israel should experience because it's so hectic, so loud, so fun!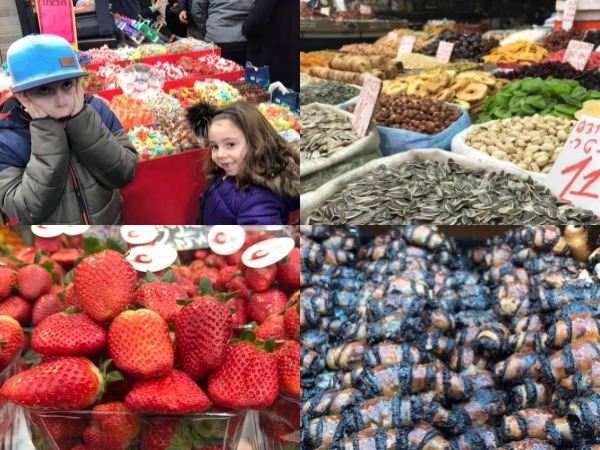 LUNCH: Well lets see, first we got the most amazing fried fish at Fishenchips in the shuk. Then I met my college roommate ast Hatzapuriah. It's right outside of the shuk, a few doors down from Crave and WOAH! Salty Georgian bread, fresh ricotta and spinach, a runny egg and that slab of salted butter. I almost have no words for how good it was. This restaurant does one thing and it does it right. Get thee to Hatzapuriah asap!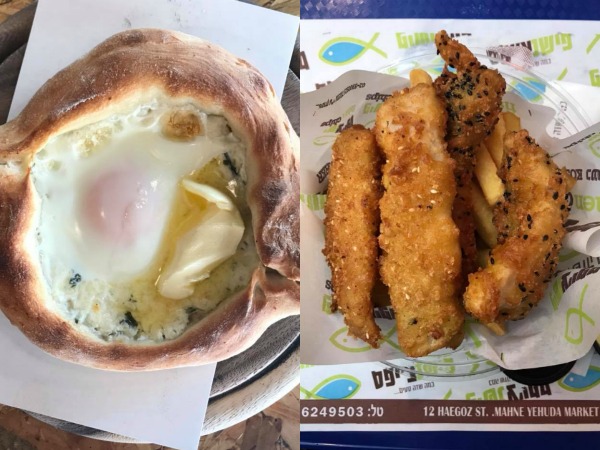 After a few hours there, we went back to the apartment to get for ready Shabbat and we ate a lovely buffet dinner at The Kings hotel.
Saturday, January 20:
Shul and Lunch: Danielle Renov from @peaslovencarrots had a bris for her beautiful baby boy and I feel so lucky that I was able to attend and be there with my good friend for this incredible celebration. Nora also had the cutest playdate all afternoon and she totally immersed herself into Israeli life. What a day!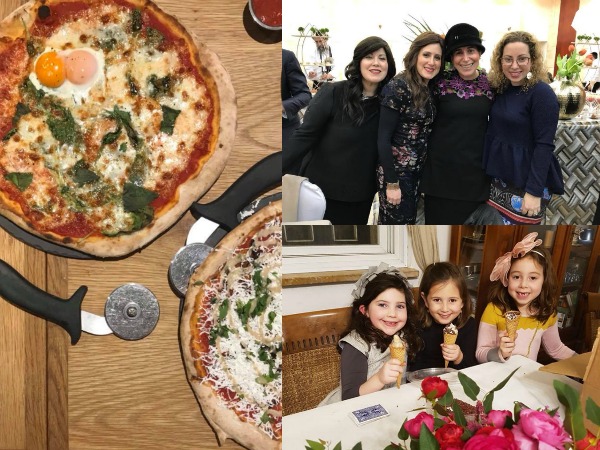 DINNER: we also had my cousins sons bar mitzvah (not why we went to Israel but so cool that it happened while we were there) but first, we ate dinner. I asked on Instagram and almost every single person said the same thing: La Piedra. It's a small pizza shop right next to Supersol on Gershon Agron that I never would have walked into but with so many people telling me to go, I just HAD to and thank goodness I listened. Probably one of the best pieces of pizza I've ever had. Thin crust, charred around the edges, whatever toppings we wanted and made fresh in a wood fire oven.
Sunday, January 21:
Masada: we actually rented a car through Hertz (near the Mamilla Mall) for Sunday-Tuesday for our day trips. We may or may not have gotten a little lost on the way to Masada (hey Waze, Masada up north is a small town and who the heck is actually going there so maybe next time, don't even give us that option) but we found our way to the real Masada and took the cable car up and down. The kids refused to take the path down and I was totally okay with that. If you're wondering about what we ate, we brought bagels and snacks for the car since there we weren't sure about the kosher options besides ice cream at Masada. I also brought an Optavia lemon crisp bar for myself and it was so fun eating it at the top of Masada.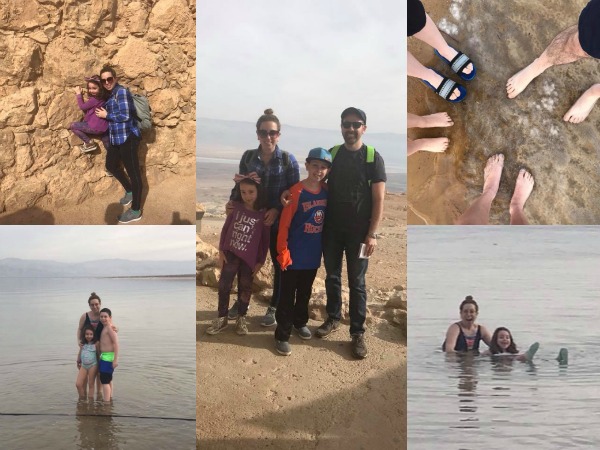 The Dead Sea: after Masada, we went to the Ein Gedi Spa to go float in the dead sea. One thing I have to mention is how sad and unreal it is that the dead sea is shrinking. When we walked out of the spa in our bathing suits, ready to walk to the water, we actually had to take a tractor shuttle to get there because the water has receded so much since the spa was built. As humans, we think this earth is ours for the taking but you can see first had at the dead sea that as we take from our planet, it doesn't always gives back. Just had to throw that in there before I tell you how amazing and fun it was to float once again in the dead sea. The kids were so nervous and we really had to coax them in (ps. it was pretty darn cold in the water but that didn't stop us).
DINNER: Grill Bar. This is probably my fathers favorite restaurant in Jerusalem. No frills Israeli food and darn good too. You walk in and right way, you can see them baking fresh pita so that's always a good sign. Our service wasn't exactly great but who cares when the food is on point. We got skewers of chicken, hearts, sweet breads and liver. Schnitzel and fries. Steak. Israeli salad. Eggplant and tehina. Should I go on?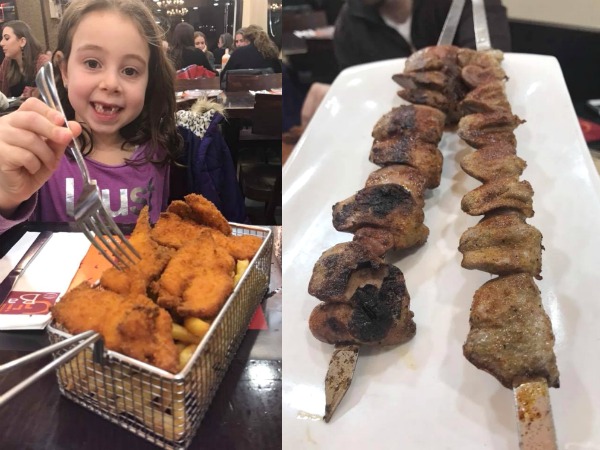 Monday, January 22:
This is the day I called THE DAY OF BREAD.
Eretz Breishit: also called Genesis Land, was up first. We all had a blast riding camels and, of course, I loved the hot tea and making our own pita. You really can't skip Eretz Breishit on your trip, even if you're visiting without kids.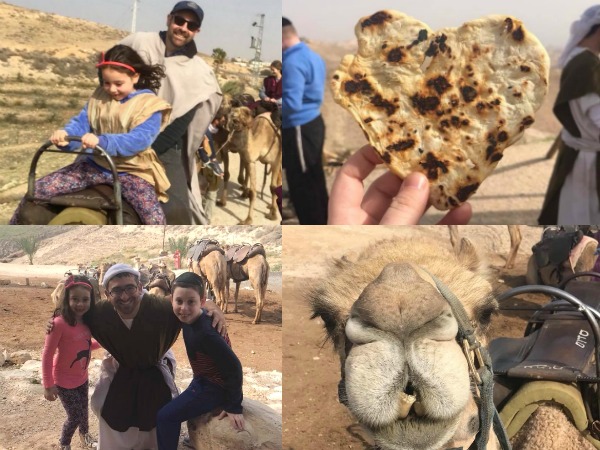 We drove back to our apartment to relax for a bit and I stopped by Daniella Faye to buy a few dresses and the prettiest pom pom hat. I did not go in for anything sponsored but they were amazing and offered me a discount on what I was already buying because, of course, I was posting all about it on Instagram. I just can't help myself. I love building relationships with companies that I believe in and Daniella is so talented! Her store is close to the corner of King George Street and Hillel and is actually very close to the apartment we were renting.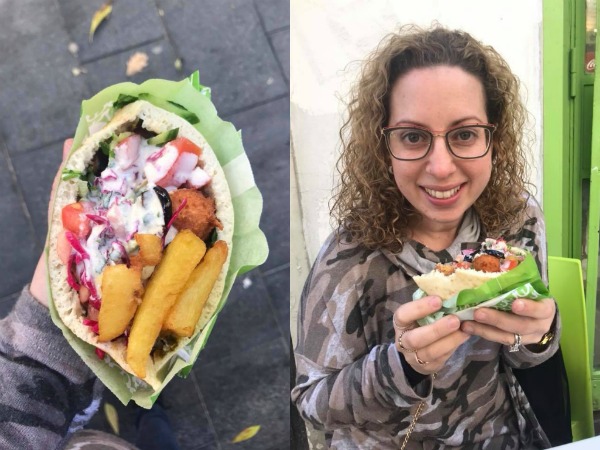 LUNCH: Another great part about going to visit Daniella at her store was finding out that right down the block is a Shalom Falafel. Falafel on point and perfect fluffy pita!
Pat BaMelach: still going strong with our day of bread, Pat BaMelach in Gush Etzion is an artisan bread bakery and they offer hands-on workshops, giving everyone historical, educational, cultural and delicious bread-making activities. And let me tell you, the chocolate filled brioche right out of the oven was HEAVEN. I am so glad we went and we will definitely go back, even just so we can buy the sourdough.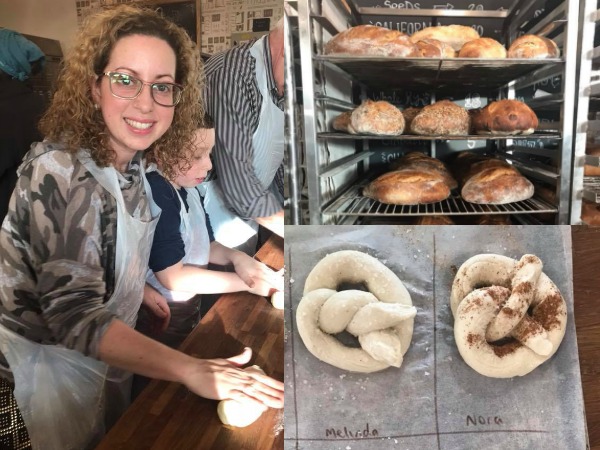 DINNER: Luciana in the Mamilla Mall. This is a MUST for dairy. Everything was made fresh and in-house, packed with flavor and very very dairy. Ha, did I mention how dairy this place is?!? They are also known for their desserts so we picked out a few and had a good time picking away at them.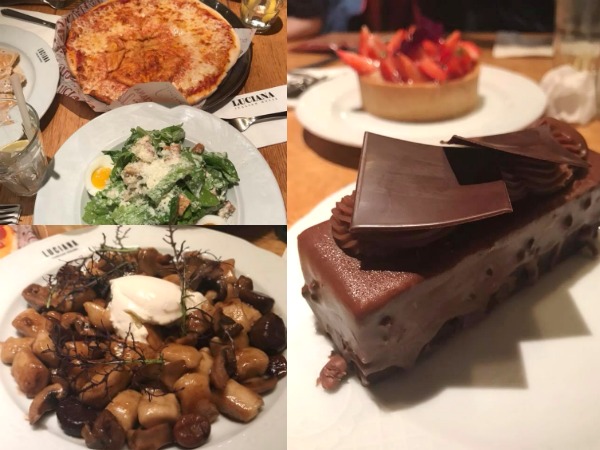 Tuesday, January 23:
Latrun Tank Museum: known in hebrew as Yad La-Shiryon, the tank museum is Israel's official memorial site for fallen soldiers from the armored corps and one of the most diverse tank museum in the world (thanks for that info, Wikipedia). The kids had so much fun climbing all over the tanks and isn't that what it's all about?!?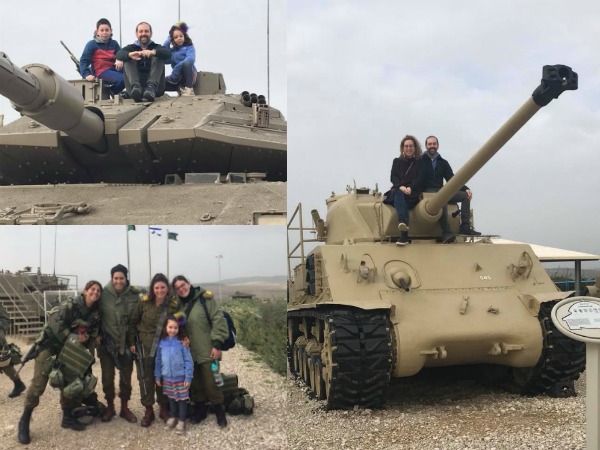 Quick stop at Café Neeman for amazing coffee and some pastries that I keep thinking about (chocolate filled baklava FTW).
The Biblical Museum of Natural History: the museum is a 15 minute drive from Latrun in Beit Shemesh, which meant we could really pack a ton into our day. I am absolutely in love with this museum! It showcases the mammals, birds, reptiles, amphibians and insects of Scripture, as well as related zoological topics from the Talmud. The museum was founded by Rabbi Dr. Natan Slifkin and he has a fun hands-on approach to his guided tour of the animals, both dead and alive. I'm a huge fan of snakes so don't mind the picture of my entire family holding a boa constrictor while I have a snake wrapped around my neck.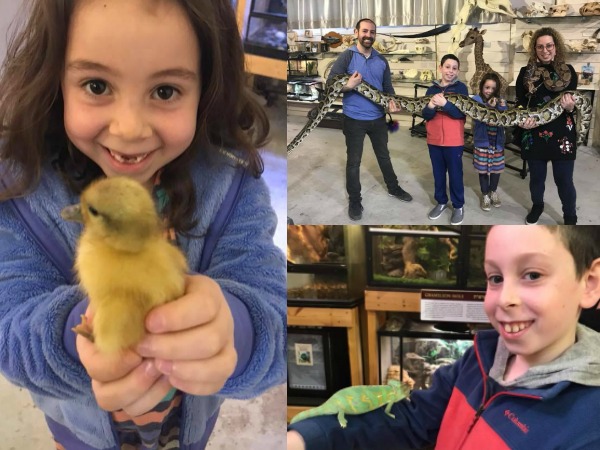 Iza Pziza Dairy: just another 15 minutes in the car and we were at another very special place called Iza Pziza in Modiin. This farm is family owned and run and they treat their goats with love and respect. I love that they only sell their goat cheese on the farm and sell only as much as their happy goats produce. They give tours of the farm, cheese tastings and even a class where you can learn to make your own cheese. We opted for the whole package and the kids loved the hands-on lesson as well as some time with the goats. There is seriously nothing like homemade goat cheese slowly pasteurized from fresh goats milk. Call +972 52-258-9900 for more info and you can check them out on Instagram as well.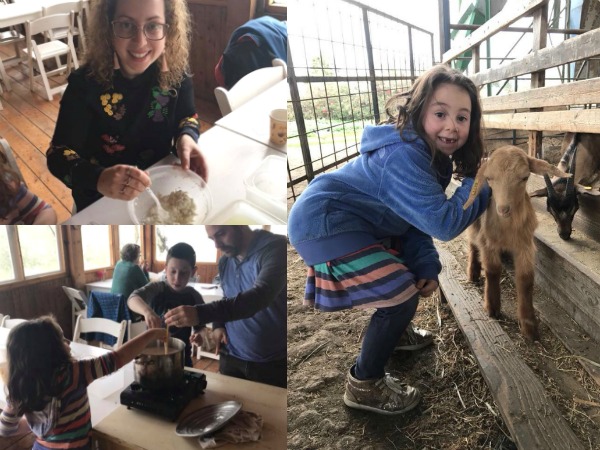 One last stop for the day before dinner. We went to visit the graves of my Savtah and Saba. We weren't sure if we would have the chance to visit them and when we realized the cemetery was actually on the way home from Iza Pziza, we knew we could make it happen. My Savtah is the biggest reason that I have such a love of cooking and baking and she has been my inspiration since I was little. I can definitely tell you that my sense of humor comes from my Saba.
DINNER: The Eucalyptus. For our last dinner in Jerusalem, we wanted something fun, funky, unique and special. The Eucalyptus definitely fulfills all of those things. The restaurant is in the Artists Colony near the Mamilla Mall and it's so fun to walk through there. Yeah, we ate very well and even my kids were happy! Nora got a steak and Zach got his new favorite, sweet breads.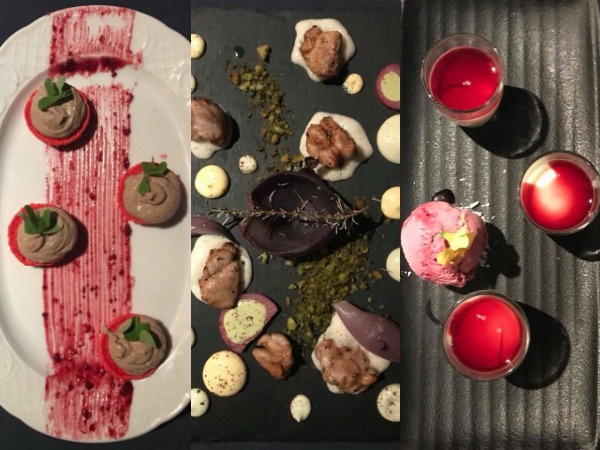 We finished the night with a visit to my husband's cousins and it was so much fun meeting them all and I can tell you I remember almost none of their names. Ha!
Wednesday, January 24:
Our last day in Israel! So hard to say goodbye but I know we will be back as soon as we can. Winter break 2019, anyone???
BREAKFAST: Back at Kadosh because I realized I never got my sachlav (that of course, I had to take pictures of and my husband finally got it on camera) and I wanted that almond frangipane pastry. I know I said it before but you are missing out if you don't go to Kadosh and there's something for everyone! GO GO GO!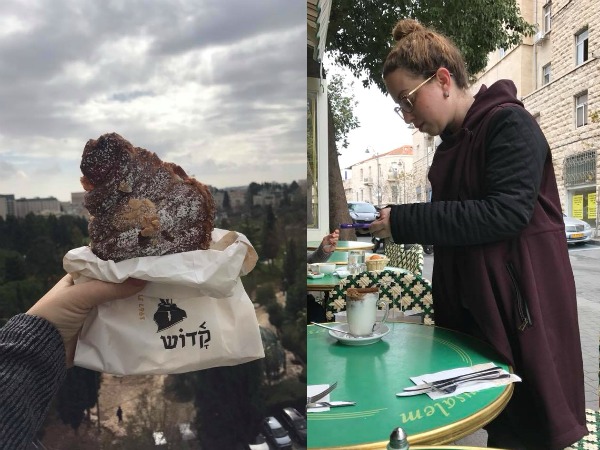 Even though we had been to the shuk already, we wanted a fun food tour so we called Gavi from @eatingaroundIsrael 972-58-531-5555 and we legit ate our way through the market! We tried so many incredible things from alleyways we never thought to walk down. PS. Gavi's sister is @thatswhatshemade on Instagram so shout out to Elisheva for recommending your bro.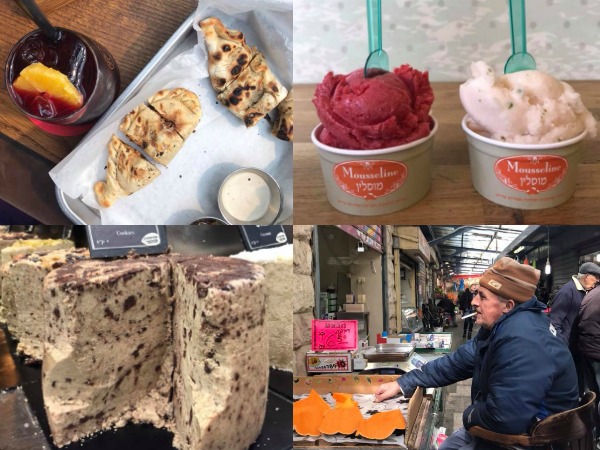 One last stop at the Kotel was a must for us! We also ran into some family and friends, which was so nice! It's amazing how you never know who you'll see walking around Jerusalem. One of the things I really wanted to do in Israel was buy a piece of art so we stopped at my fathers favorite gallery, Rozen Gallery, and found a piece that I am so excited to hang as soon as it arrives (and I frame it).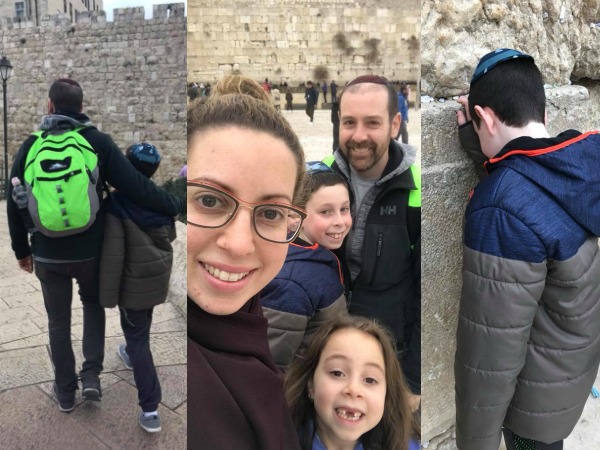 I feel so grateful and blessed that my family was able to go on this trip to Israel and I that I could share my experience with all of you. Please comment below if you have any questions, tips or suggestions for our next trip. I have the entire trip saved on my Instagram feed if you want to watch and really immerse yourself in our day to day activities.
Here are some tips for traveling in Israel:
-Always make sure you leave time to travel to each location. If you pack too much in to your day but forget about the travel time, you just won't get it all done. Traffic in Israel has no logic. It could happen at random times of day for no reason so keep that in mind as well.
-If you're traveling to Israel in the winter, no matter what the temperature says outside, it definitely FEELS colder so pack a heavy coat and a fleece! Jerusalem is very windy and you never know what each day will bring. We even had hail one day!! That was pretty amazing.
-Always carry wet wipes with you. That one doesn't need an explanation, right?
-You don't actually need to speak hebrew to make your way around Israel. If you want into a restaurant or coffee shop and you only see a hebrew menu, just ask for english. Don't be embarrassed! Trust me, I've been learning hebrew my whole life and I still stink at it.
-Renting a car in Israel isn't as scary as it seems! Just be ready for some crazy drivers and always keep your eyes on the road. Once you get out of the city, it's smooth sailing.
-Bring electronic adapters with you to charge phones, iPads, computers, etc.