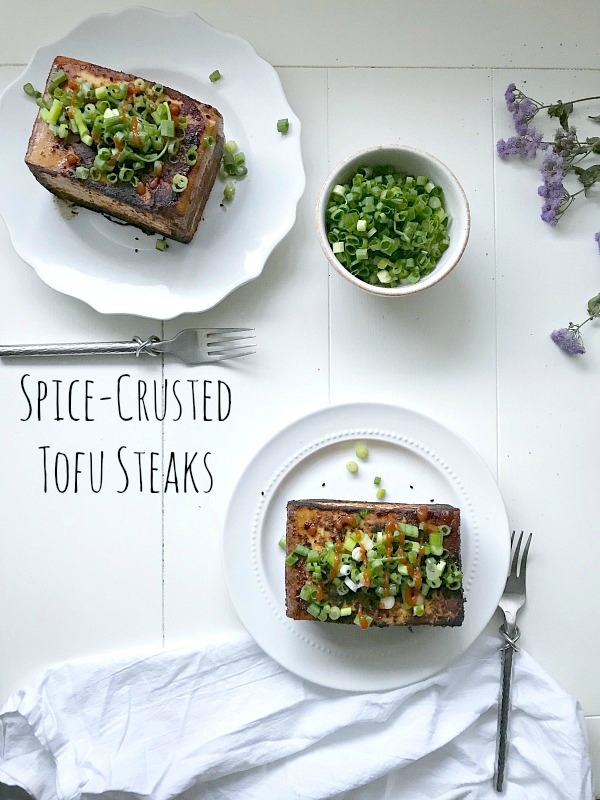 Starting 2018 off right with the most amazing tofu recipe! Yup, I can say it's the most amazing because it's not actually my recipe. My fellow blogger, heel loving, adventure seeking, good friend, Shushy Turin, developed this recipe just for me to share here on KT and I am so excited to show it to you! Shushy, who you can check out on Instagram as @cookinginheelss with her other 26k+ loyal fans, is so beyond talented with not only her photography (which you can see all over this post) but she really understands food and shares her knowledge every day in her Instagram stories. Just the other day, she made her own gojuchang! When was the last time you made your very own homemade gojuchang? Yeah, me neither. But I'm excited that I know how and it's because I learned it from Shushy. So now I'm going to hand this post over to Shushy so she can tell you all about this tofu recipe!
If there is one thing I've gotten super familiar recently, it's tofu. We've tried it in a million different ways but we love that it's a good alternative to meat. While tofu is a recent addition for me, my husband has been having it since he was a kid as a cheaper meat-free lunch option. He introduced me to the millions of possible ways to use tofu, like how I use it in pad Thai or our shiritaki-tofu stir fry but this one, it was all me. (Which obviously means I'm super proud of it. I got into the head of a vegan and thought, well why not treat tofu the exact same way you might treat a quality piece of meat. And that is where the idea for tofu steak came along. I like it because it's quick, easy and an absolutely delicious way to eat an entire block of tofu in one sitting.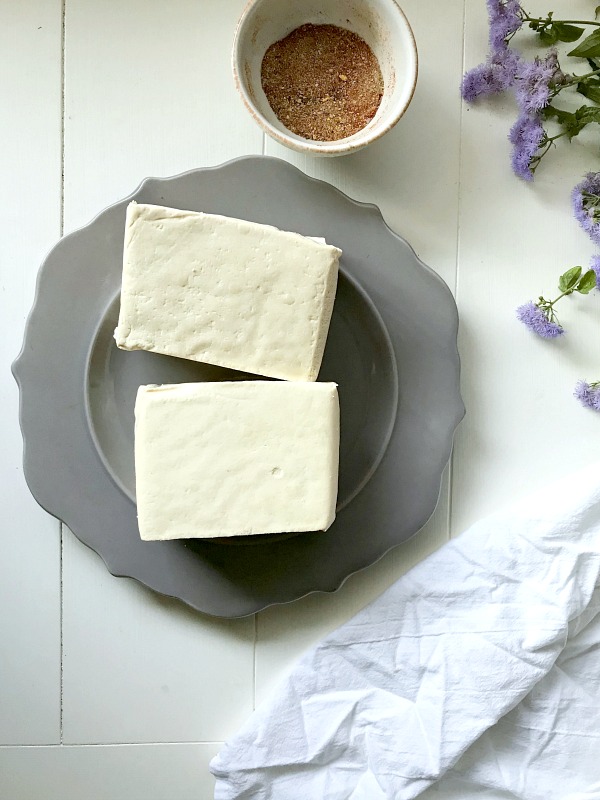 You start by rubbing it down with a spice rub made with hot paprika and cardamom. Then, like any good steak, you give it a nice sear on all sides and finish it in the oven. You top it with sriracha, scallions and nigella seeds for an extra delicious bite!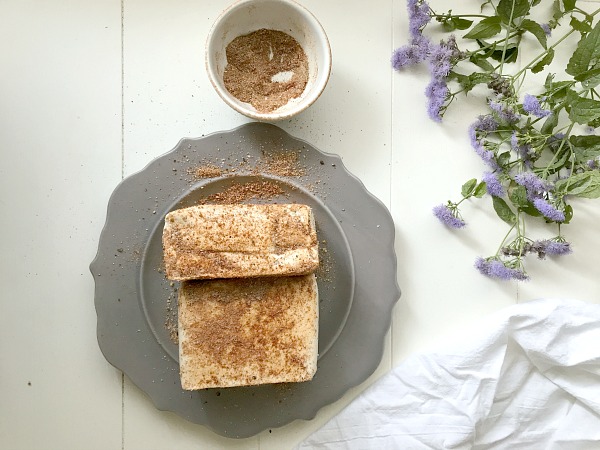 The real secret here is adequately pressing the tofu to get all the water out so that the edges sear and don't steam. Before you leave for work or errands in the morning, remove the tofu from the package, wrap it in absorbent towel and place a plate above and below the tofu. Place a couple of heavy cans over the tofu and a heavy pot over that and just let it sit there for at least 30 minutes or up to 10 hours. It will be super nice and dry when you use it.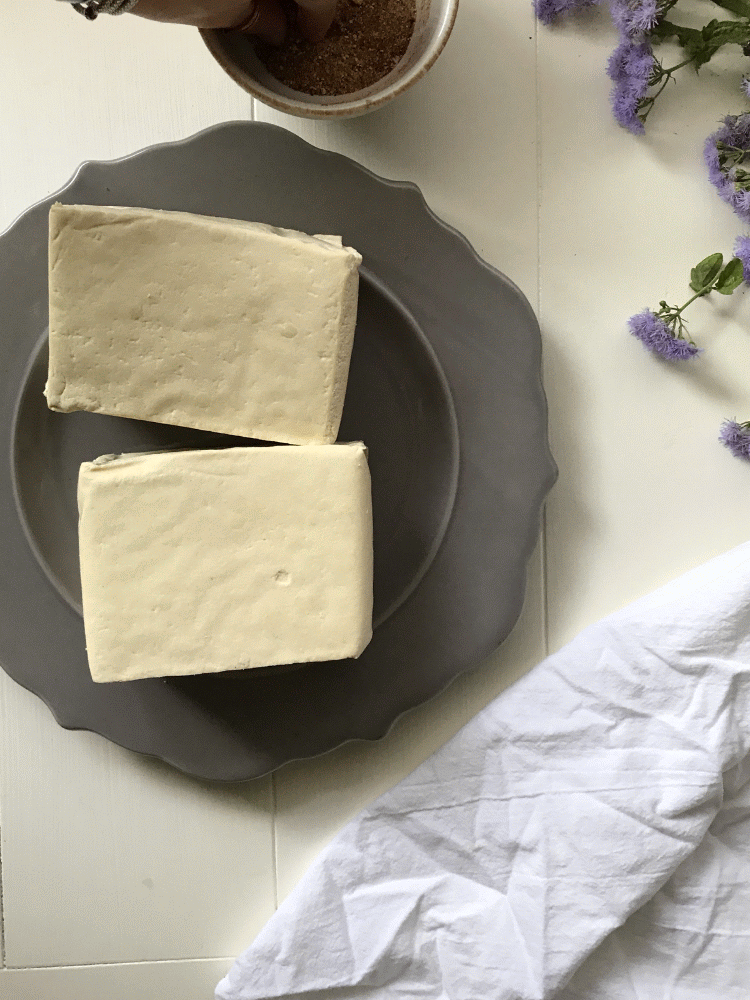 I think my favorite part of this whole thing is that you can eat this with a spoon, because everyone knows, the best foods are eaten with a spoon!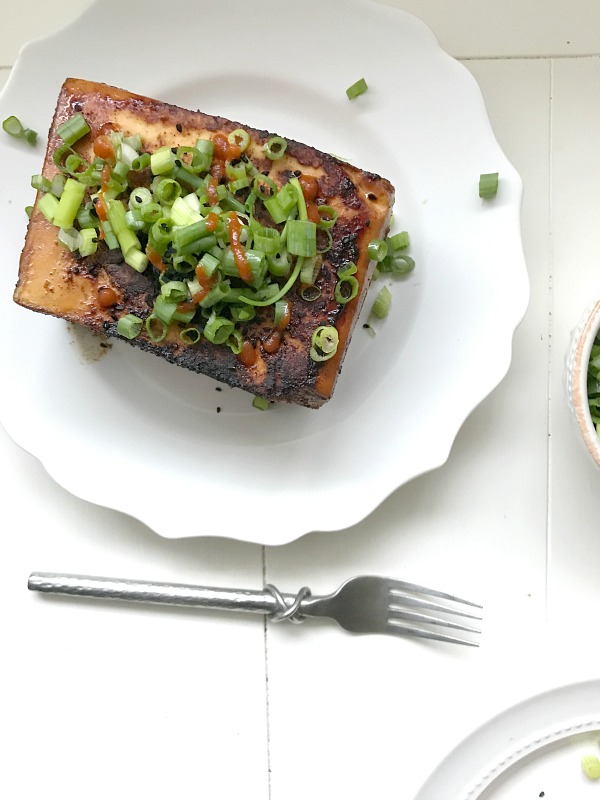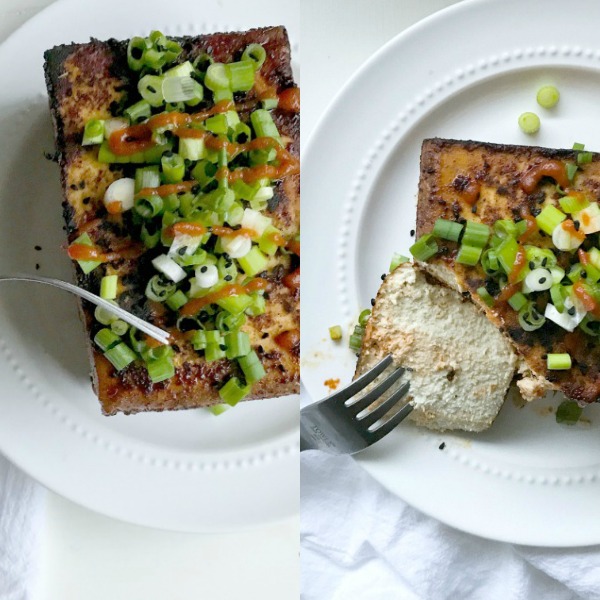 Spice-Crusted Tofu Steaks
1

packet firm tofu, drained and pressed

1/4 tsp

salt

1/4 tsp

freshly ground black pepper

1/4 tsp

ground ginger

1/4 tsp

paprika (spicy paprika optional but a great idea!)

1/4 tsp

garlic powder

1/4 tsp

cardamom

1

packet truvia, optional

1 tsp

sesame oil

2 tbsp

soy sauce
Toppings
scallions
cilantro
nigella seeds
sriracha
Instructions
Preheat oven to 350F
In a small bowl, mix together the salt, pepper, garlic powder, cardamom, paprika, and truvia.
Rub it all over the tofu and set the tofu aside.
Heat a heavy bottomed pan over a medium-high flame until you cannot put your hand 3 inches above it.
Sear the tofu about 2-3 minutes on all sides. The goal is to create a nice crust, not to cook it. Once the tofu is heated on all sides, lower the flame to medium and pour the soy sauce and sesame oil on top of the tofu and allow the entire block to become coated. Careful, the pan will emit steam which will be hot.
Transfer the tofu to the oven and cook for 20-25 minutes.
Allow the tofu to cool for 2-3 minutes before sprinkling scallions, cilantro, nigella seeds, and sriracha on top. Enjoy!
Notes
For the Optavia health plan, this recipe is: 1 leaner, 3 condiments, 1 healthy fat, some green (if you top with scallions and cilantro).