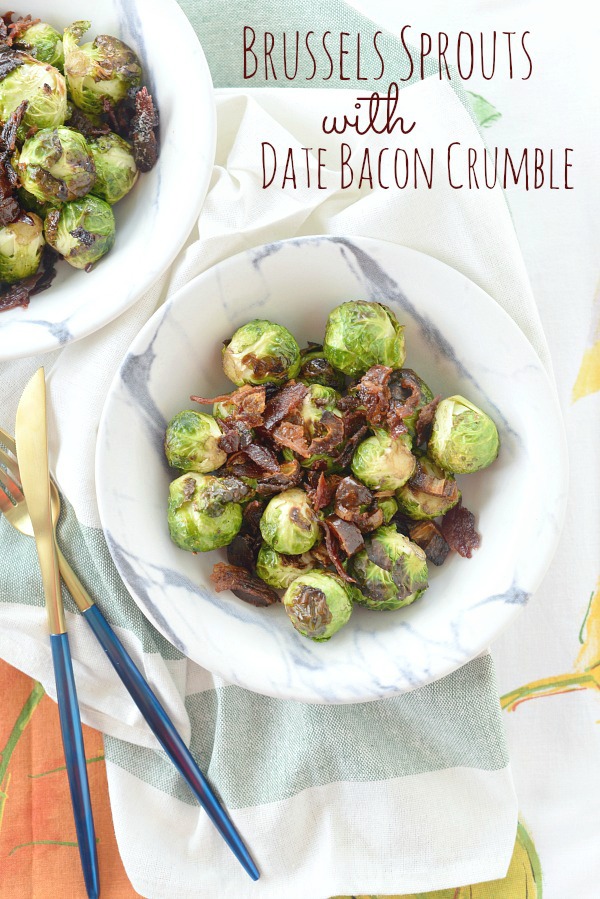 Have you ever thought of roasting dates (and I'm not talking about wrapped in bacon)???? The longer you roast them, the crunchier they get and it's almost like eating chips but wayyyy healthier. I threw some pitted dates into the oven while I was cooking up some kosher bacon and I didn't want to stop eating them! So I keep making this recipe over and over again and I finally decided to put it on the blog. Very few ingredients (who doesn't love that?!?), only natural sweetness from the pure maple syrup, and so much texture from the roasted earthy brussels spouts and the crunchy bacon and dates! Only warning I can share is if you leave this plate of brussels sprouts within reach, you will just keep picking at it until there's nothing left.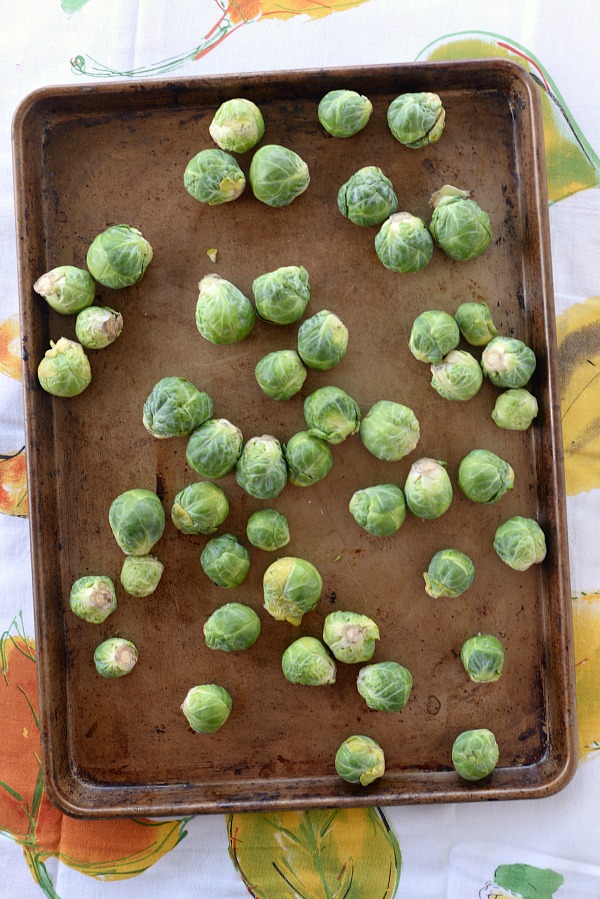 I like to roast these brussels sprouts whole because they're so pretty but you can definitely slice them in half. You can also use frozen brussels sprouts so do what's right for your home.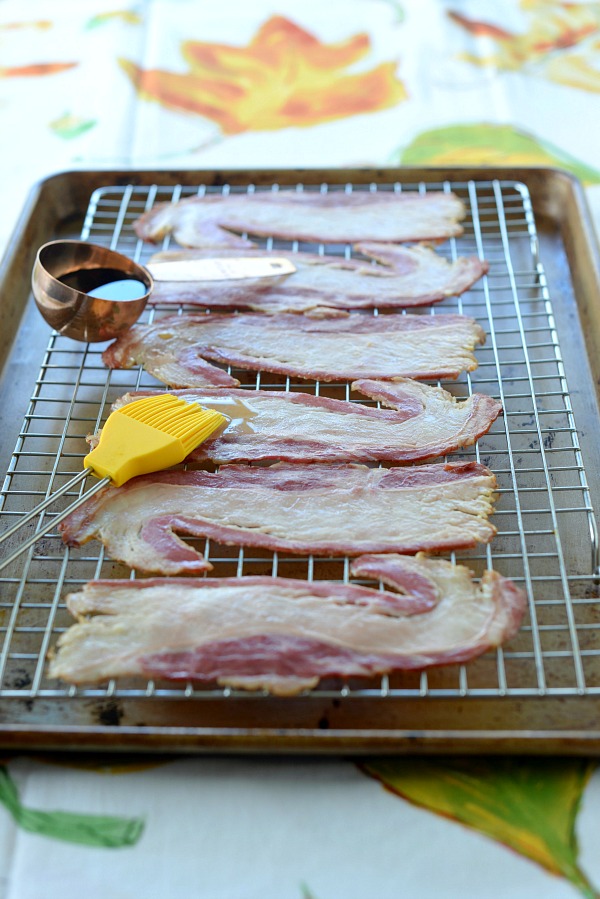 Oh, kosher bacon, my love for thee knows no bounds. What was life like before you????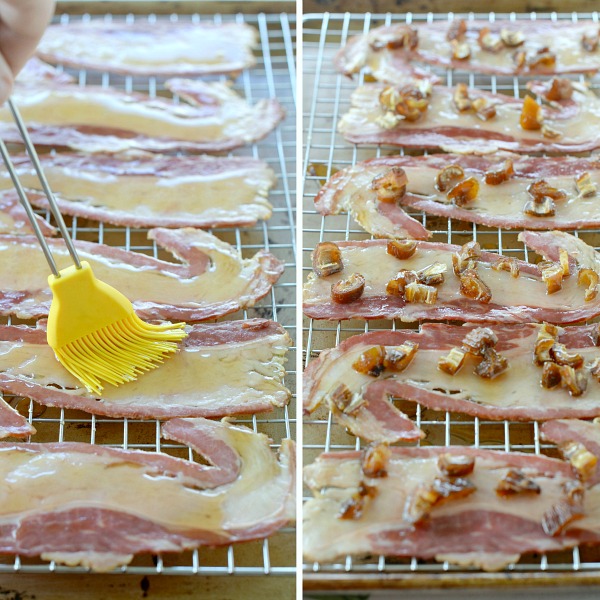 I love the idea of sprinkling the maple brushed bacon with chopped dates. They get so crazy crunchy and you can just eat them as is, like candy. I would even sprinkle them over popcorn…oh, that is so happening!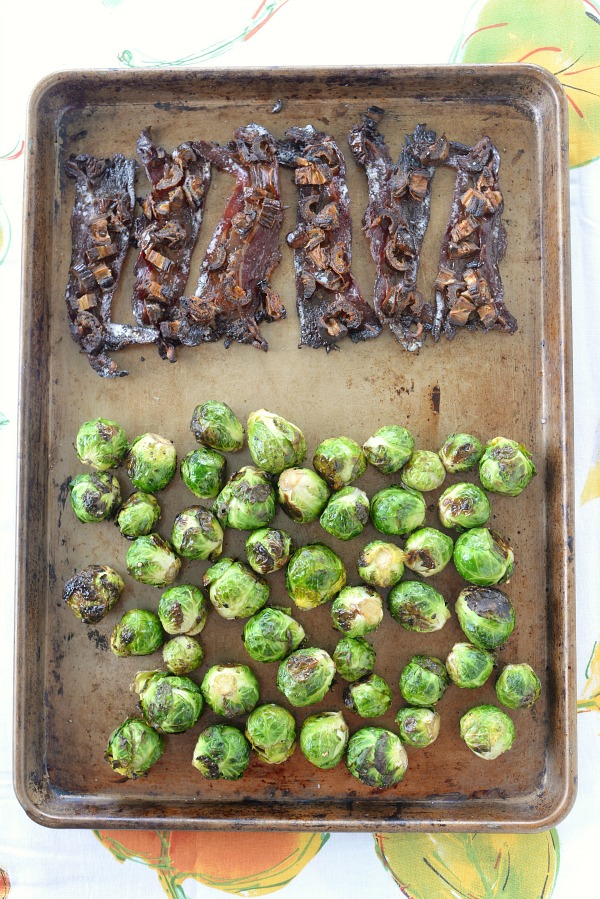 Brussels Sprouts with Date Bacon Crumble
4 oz

. kosher beef bacon

1/2 cup

pitted dates, chopped

1/4 cup

pure maple syrup

2

lbs. fresh or frozen brussels sprouts

1 Tbsp

olive oil
salt and pepper, to taste
Instructions
Preheat oven to 400 degrees and prepare a baking sheet with an oven-safe wire rack.
Place the beef bacon (you can use any type of bacon for this) on the wire rack and brush with the pure maple syrup. Top with the chopped date.
On a separate baking sheet, combine the whole brussels sprouts, olive oil salt and pepper.
Place both baking sheets in the oven and cook for 10-15 minutes, until the brussels sprouts are golden brown and the bacon is crispy. Note: frozen brussels spouts will take longer so keep an eye on them. Keep an eye on the bacon because every oven is different and you don't want to burn it!
Set the brussels sprouts and bacon aside to cool (don't forget to pour off the bacon fat and save for later–you can even freeze it) then crumble the bacon over the brussels spouts and serve. If preparing in advance, this dish tastes great room temperature. Just keep the brussels sprouts and bacon separate until serving.