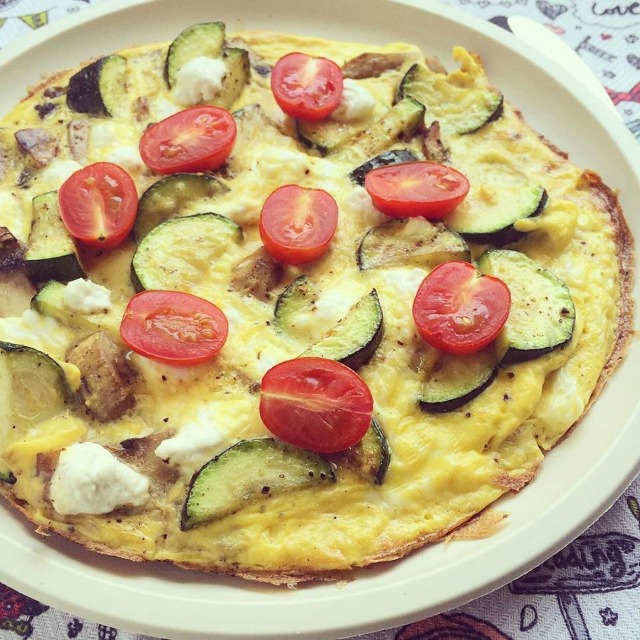 Sometimes I post a picture on Instagram and I get so many requests for the recipe that I just HAVE to share it on my blog. Well, yeah, this is one of those recipes. Breakfast for dinner is my favorite!
For anyone on the Optavia health plan (email me at kitchentested@gmail.com if you want to know more about it because I'm a coach and it would be an honor to coach you!), this is a great Lean and Green recipe that's become a staple in my home.
Zucchini Mushroom Frittata
---
Ingredients
2 whole eggs
1/2 cup eggbeaters (or 4 egg whites)
1 cup chopped zucchini (from 1 large zucchini)
1/4 cup chopped mushrooms
1/4 cup farmers cheese (or feta)
1/4 cup cherry tomatoes, sliced in half
salt and pepper to taste
Instructions
Heat a large oven-safe saute pan over medium-high heat and spray with olive oil cooking spray.
Add zucchini and mushrooms to the pan and saute for 5 minutes, until the zucchini are beginning to brown and the mushrooms have softened. Add salt and pepper and continue cooking for another minute.
In the meantime, set your oven to broil.
Whisk together the whole eggs and eggbeaters/egg whites. Lower the heat to medium-low and add the egg mixture. Cook the eggs for 5 minutes, until the eggs are beginning to set. Sprinkle with the farmers cheese and sliced tomatoes.
Place the frittata in the oven under the broiler for 1 minute, until the eggs have set and the tomatoes have cooked slightly.
Slide the frittata carefully onto your plate, sprinkle with sea salt and enjoy.
Notes
Take Shape For Life® compliant: 1 leaner protein, 3 greens, 3 condiments (1 condiment for salt and pepper and 2 condiments for the farmers cheese)
7.8.1.2
44
https://melindastrauss.com/2016/05/18/skillet-zucchini-mushroom-frittata/