I'm excited to introduce Hindy from Confident Cook, Hesitant Baker. She is sharing her traditional (and super tempting) recipe for vegetable samosas! Oh, and don't forget about the dips! Raita, tamarind chutney and cilantro mint chutney. I only wish I could have been a taste tester while Hindy was working on her recipe. And now I hand my blog over to Hindy…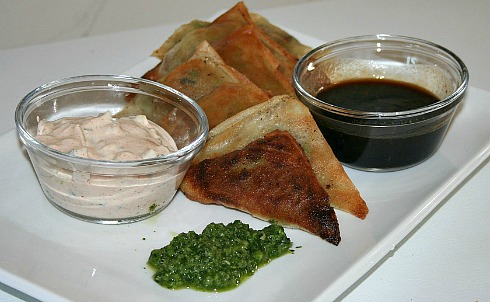 When I came to New York for college in 1997, I quickly learned how stretched my pockets would be. There were some students that were fully funded and running off to all of the restaurants and clubs. They somehow managed. I on the other hand had to figure out the extras on my own. New York has so much that is so tempting everywhere you go. My dorm was smack in the middle between Koreatown and Curry Hill. There was a Mendy's Deli thrown in across the street for good measure. There was Persian in one direction and Italian in another. As a budding young foodie, I had a few options to play with.  I just had to figure out how it could add up. There was no way, in a city like New York, that I would only be sticking to the cafeteria food or hanging out at Kosher Delight like the rest of the crowd.
I wanted to see how far my dollar could go at interesting restaurants.  I found that I could eat pretty well on a Chinatown or Curry Hill budget.  Sampling Chinese dumplings and Indian street food gave me the flavor I boost I craved and only clocking in at around $3! There was a little hole-in-the-wall a couple blocks from my dorm that seemed to be 24-hours. It served all sorts of Indian vegetarian treats. Some more recognizable than others.  The y seemed to cater to the cab driver crowd – with taxis lined up in the wee morning hours, eating out of styrofoam trays. One of my favorite treats that was pretty filling, is the Vegetable Samosa. Paired with a a few dipping sauces, it packs a lot of flavor and a lot of food without breaking the bank.
I the early days of my blog, I showcased a less authentic version that used wonton or egg roll wrappers for skins. It was a fun afternoon of cooking with my Dad. I wanted to revisit the day and up the ante with the samosas.  Adding a bit more flavor, authentic chutneys and a raita to dip the samosas in. I wanted something lighter to wrap the samosa filling in than the traditional flour dough or the wonton skin.  Over time, I have found that the traditional spring roll skin works really well for samosas. It's light and extra crispy.
Vegetable Samosas with Raita, Tamarind Chutney and Cilantro Mint Chutney
Tamarind Chutney
I refer to this as Indian ketchup and often have some in my fridge
2 tsp. canola oil
1 tsp. cumin seeds
1 tsp. fennel seeds
1 tbsp. chopped ginger
1 tsp. chili powder
1 tsp. garam masala
1 tsp. asafoetida
3 tbsp. tamarind paste
2 cups water
1- 1/8 cups sugar
In a small sauce pan, heat up the oil. Add in the cumin and fennel seeds. Let them get toasted a bit.
Add in the chopped ginger, Â chili powder, and the asafoetida spices.
Add in the rest of the ingredients and let the mixture come to a boil.
Keep the mixture simmering at a medium heat until it reduces and thickens.
It is ready when you see that the mixture sticks to the back of your spoon.
Let it cool to room temperature before serving.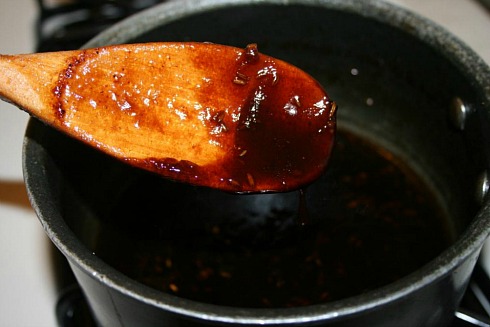 Raita
This version is spicy. Leave out the chile and chili powder if you want it to be mild
1 seedless cucumber, seeded and chopped
¼ cup chopped cilantro
1 small green chile, chopped
1 tsp. chili powder
½ tsp. cumin
¼ cup chopped mint leaves
1 tbsp. lemon juice
2 cups plain greek yogurt
Salt to taste
Mix everything together in bowl. Let the mixture sit for a bit so the flavors can develop. Store in fridge. It's that easy.
Spicy Cilantro Mint Chutney
1 cup cilantro
½ cup mint leaves
2 tbsp. ginger
Juice of ½ lemon
2 green chiles
½ white onion
3 garlic cloves
2 tsp. olive oil
1 tbsp. water
Place everything in a food processor until everything is well chopped.  Transfer to a container and store in fridge until ready to use.
This chutney reminds me of a chimichurri sauce. It is also good when baked on to fish or chicken breast.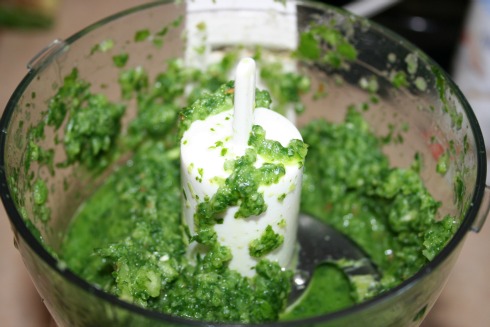 Samosas
½ package of Spring Roll Wrappers, defrosted
3-4 potatoes, boiled
1 onion, chopped
3 cloves garlic, chopped
1 tbsp. ginger, chopped
1 cup frozen peas
1 tbsp. canola oil
1 tsp. cumin seeds
1 tsp. fennel seeds
2 tsp. coriander
1 tsp. chili powder
1 tsp. amchur
2 tsp. garam masala
2 tsp. ground cumin
Salt (to taste)
1/4 cilantro, chopped
Oil for frying
Peel the boiled potatoes and chop up once cool. Mash the potatoes.
In a large pan, heat up the oil. Add the cumin and fennel seeds and let them toast a bit.
Add the onion garlic, and ginger and let cook a bit.
Add the rest of the ingredients and cook for a bit. About 5-10 minutes. Taste the mixture. Add salt or additional spices to taste.
Transfer mixture to a bowl and let cools.
Have everything ready to go.
The spring roll wrappers are pretty big. Cut them in to long strips.
Cover the rest of the wrappers with a damp towel.
Place a few tablespoons of the mixture in the middle of the bottom third of the wrapper. Fold in to triangle and wrap up. Seal edges with a bit of water and try to tuck in a bit. You don't want the samosa bursting when cooking.
See images for instructions: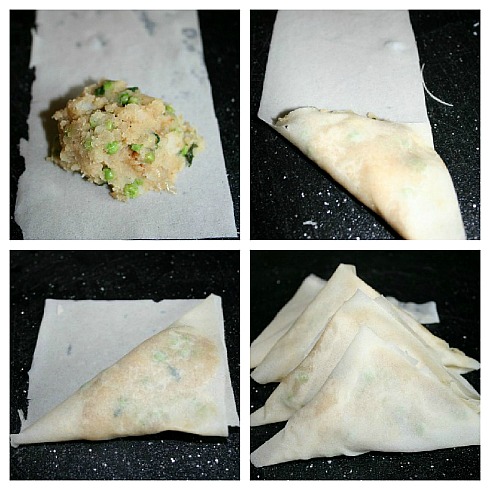 Heat up ¼ inch of oil in a large pan. Fry on each side until brown. Drain on a cooling rack or paper towels.  These are best when eaten very fresh.
Serve with the sauces.