Beet Glazed Brisket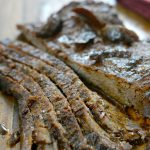 Scale
Ingredients
2

–

3

pounds 2nd cut brisket

1 Tbsp

dijon mustard

1 Tbsp

smoked paprika

2 tsp

dried rosemary

1 tsp

dried thyme

1 tsp

salt

1/2 tsp

pepper

4

medium cooked peeled beets (can buy ready-made beets), quartered
Instructions
Preheat oven to 450 degrees F.
Combine the mustard, paprika, rosemary, thyme, salt and pepper in a small bowl until a thick paste has formed. Coat both sides of the brisket completely.
Place the beets in the bottom of a 9×13 dish then top with the brisket. Cover the pan with foil and cook for 1 hour. Lower then temperature of the oven to 225 degrees F. and cook for 3-4 more hours.
Remove brisket and allow to cool before slicing. If shredding, have at it while the brisket is still warm! Serve with the cooked beets and pan juices.
Notes
This brisket freezes very well. Just place the beets on top of the brisket before wrapping in foil to freeze.