Print
Pumpkin Bimuelos with Caramel Drizzle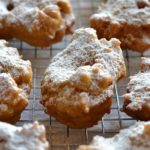 Scale
Ingredients
Pumpkin Bimuelos
1

package Fleischmann's Active Dry Yeast ((Active Dry Yeast reacts at

100

–

110

°F)

1 cup

warm water

1

egg

¼

pumpkin puree

1 Tablespoon

sugar

¼ teaspoon

cinnamon

¼ teaspoon

ground cloves

¼ teaspoon

salt

2 cup

s all-purpose flour

2 cup

s vegetable oil, for frying

1 Tablespoon

powdered sugar
Caramel Drizzle
¾ cup

brown sugar

¼ cup

Karo light corn syrup

2 Tablespoon

s water

¼ cup

coconut milk

2 Tablespoon

s butter, softened
Instructions
Pumpkin Bimuelos
Pour the yeast over the hot water and whisk to combine. Set the active yeast aside for 5 minutes to rise.
In a medium bowl, stir together the egg, pumpkin puree, sugar, cinnamon, cloves and salt. Add the risen yeast mixture and stir to combine. Add the flour and stir to combine again. The dough should be very sticky. Cover the bowl and set the dough aside for 1 hour in a warm place to rise.
When the dough has puffed up, pour the vegetable oil in a large frying pan and heat over medium-high heat to 350 °F. Place a wire cooling rack over a cookie sheet and set it next to the pan.
Dip your hands in oil or spray with cooking spray and pull around 2 tablespoons of dough from the bowl. Stretch the dough with your fingers then make a hole with your thumb and drop the dough in the hot oil. The dough will puff up immediately. Cook 2-3 bimuelos at a time so you don't overcrowd the pan. Overcrowding the pan will lower the temperature of the oil and the bimuelos won't cook properly.
Cook the dough for 2 minutes, until brown on one side. Flip the dough using 2 forks and cook for another 2 minutes to brown on the other side. Remove the cooked bimuelos with the forks and place them on the wire cooling rack.
Once all of the bimuelos are fried, sprinkle them with sifted powdered sugar. You can eat them just like that or you can add an easy and delicious caramel drizzle.
Caramel Drizzle
Combine the brown sugar, Karo light corn syrup and water in a small saucepan and stir to combine with a wooden spoon. Place the pan over high heat and bring the mixture to a boil, stirring constantly. Once boiling, stop stirring and cook the mixture for 5 minutes, until the temperature reaches 250 °F. then remove the pan from the stove.
Add the coconut milk and butter to the pan and mix with the wooden spoon. Place the pan back on the stove, bring the mixture back to a boil over high heat then leave the caramel to cook until 248 °F, which is the soft ball stage on a candy thermometer.
Remove from the stove and set the caramel aside to cool slightly. Drizzle over the bimuelos and devour.