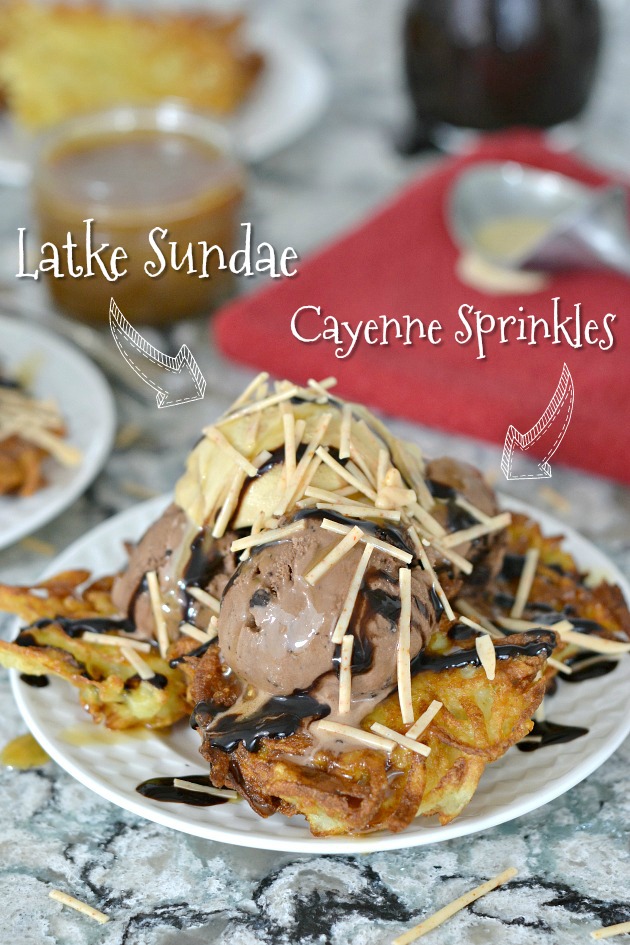 Yes! Yes! Yes! It works. I promise you, this mix of hot, crunchy, cold, salty, chocolatey and spicy actually works! And I'm not crazy. I'm really not! I know I've got some explaining to do…the super talented Molly Yeh (of the beautiful My Name is Yeh blog) published her very first cookbook this year and I have not stopped talking about this book since I first got my hands on it. You might recognize Molly's name from the chocolate olive oil cake with candied bacon she made for my birthday when I turned 32 and now my daughter, Nora, is begging me to make Molly's famous funfetti cake. Who could say no to funfetti?!? There are just so many recipes I want to make in this book, including the dark chocolate marzipan scone loaf, spinach and feta rugelach, slow cooker goulash with scallion knodeln and basically the entire hot dish chapter.
I could have made any of those recipes for this blog post but I seriously HAD to make the latkes and not just because it's December and Chanukah is coming up. Molly's recipe for latkes is well thought out, simplistic, to the point and worth making any weekend but what really caught my eye was the page after the latkes (page 206)…yes, the page where Molly talks about putting ice cream and homemade spicy cayenne sprinkles ON her latkes. "Obviously this is inspired by the deeply sacred act of dipping french fries in a Wendy's Frosty. So this latke's pretty basic and a logical thing to do, considering how well hot, salty, crunchy potatoes and cold chocolate ice cream go together." Genius! Completely crazy in every way I can think of but as I said above, it works!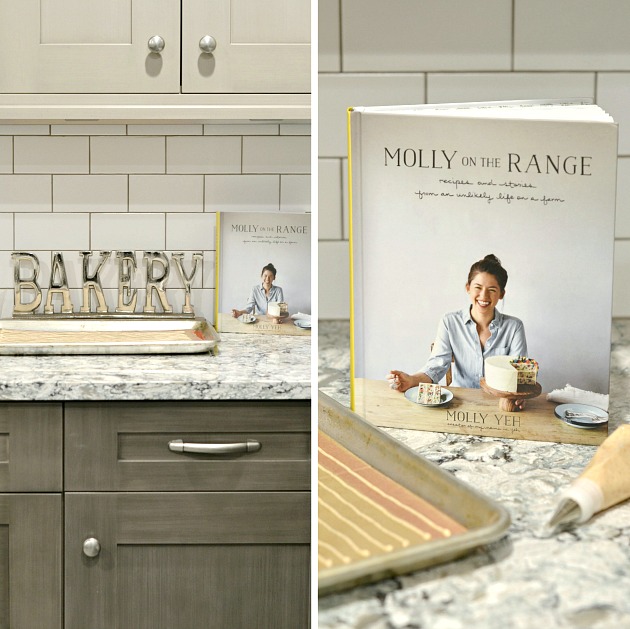 The homemade sprinkles are a bit tedious but definitely worth making. Sure, you could use store-bought sprinkles but who would want to do that?!? Check that off my bucket list.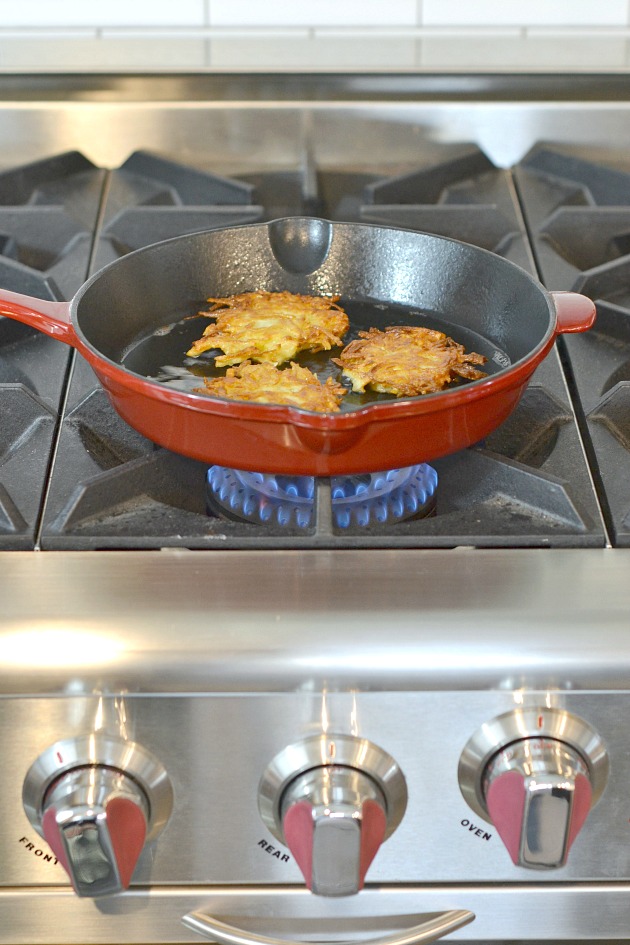 Nothing like frying potato latkes! So crunchy and salty.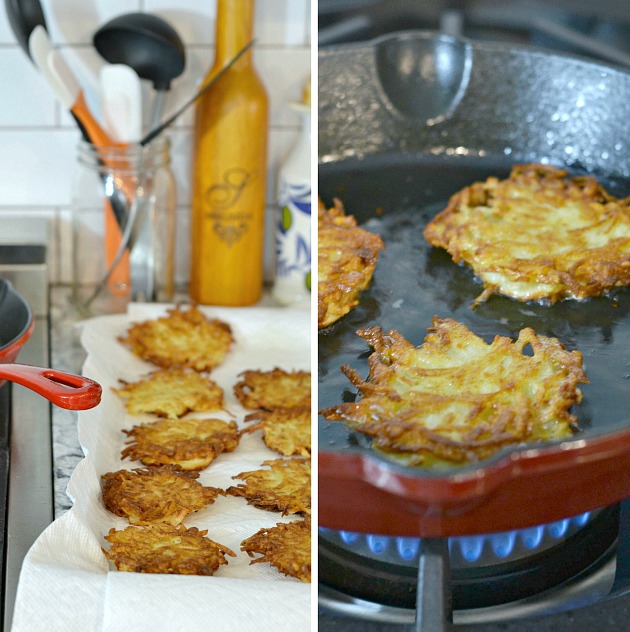 Molly makes a good point in her book: "A twice-fried latke is extra nice, so if you'd like to make these ahead of time, store them in the refrigerator and then reheat by frying again."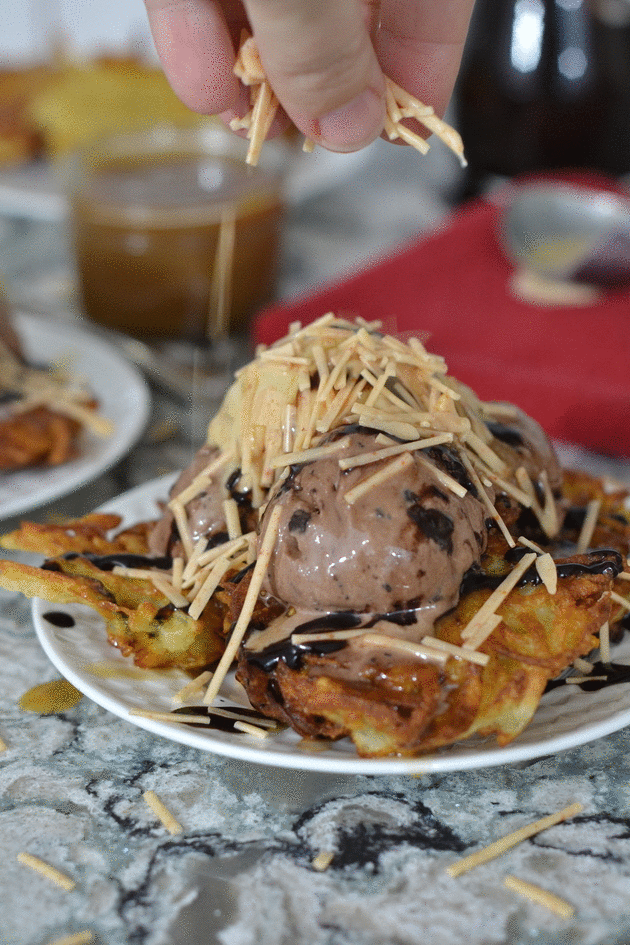 Sprinkle those homemade cayenne sprinkles EVERYWHERE! And don't forget to drizzle some chocolate sauce and caramel all over the ice cream and latkes for good measure.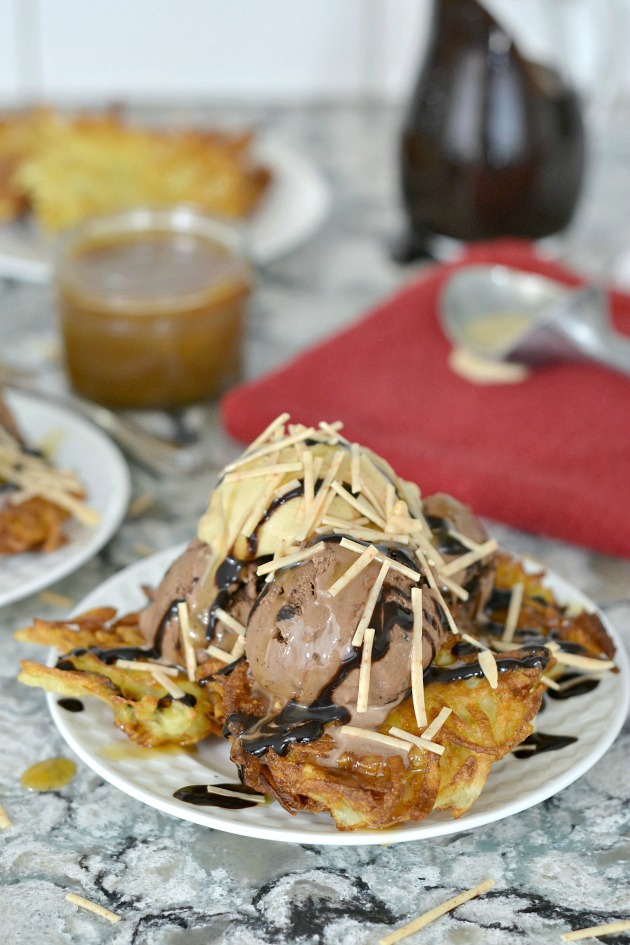 Latke Sundaes
Cayenne Sprinkles
1

large egg white

1 1/4 cups

powdered sugar

1/2 tsp

cayenne pepper

1/8 tsp

kosher salt
red food coloring (optional)
Latkes
3

pounds russet potatoes, peeled

1 1/2 tsp

kosher salt

4

large eggs

2 Tbsp

lemon juice

2/3 cup

flour
Toppings
chocolate ice cream (or any ice cream flavor you want)
cayenne sprinkles
chocolate syrup
caramel
whipped cream
Instructions
Cayenne Sprinkles
Line a baking sheet with parchment paper.
In a small bowl, whisk together the egg white, powdered sugar, cayenne, salt and food coloring (if using). The consistency should be slightly thicker than Elmer's glue. Add a bit of water or more sugar if it is too thick or thin. Transfer to a piping bag fitted with a very small tip and pipe lines onto the parchment paper. Let dry at room temperature (uncovered) for 4 hours or overnight. Scrape the lines off of the paper and chop into sprinkles.
Latkes
Using a food processor or mandoline, shred the potatoes. Toss them with the salt and transfer to a cheesecloth. Use your hands to squeeze out as much liquid as possible.
In a large bowl, whisk together the eggs and lemon juice then add the potato mixture. Stir to coat evenly and then mix in the flour.
In a large skillet, heat 1/4 inch of oil over medium-high heat, until shimmering. Use an ice cream scoop (and pack the mixture in firmly) to add portions of the mixture to the oil, spacing them out so as not to crowd the pan. Press the scoops down with a spatula to get 1/2-inch-thick patties.
Fry until golden brown on both sides, for 2 to 4 minutes per side. Transfer to a wire rack or paper towel and sprinkle with salt. Repeat with remaining mixture, adding more oil to the pan as needed.
Sundae Assembly
Top hot latkes with ice cream, cayenne sprinkles and whatever else you like to add to your sundae…whipped cream, caramel, chocolate sauce, rainbow sprinkles.