I am so excited to share this special new recipe with you today. JoyofKosher.com asked me to develop a recipe using Goldenberg's Peanut Chews for the holiday season and I could really only think of one thing…doughnuts! I am addicted to making homemade doughnuts, fritters, birmuelos and any other dough I can fry in hot oil and I had a great time with this one. Goldenberg's Peanut Chews are chocolaty candy bars filled with crunchy peanuts and a chewy center made from sugar, corn syrup and molasses. Not too hard to find some inspiration from those ingredients, right?!? So I adapted my original baked doughnut recipe, which is one of the most popular recipes on Kitchen Tested, to include molasses and ground nutmeg and I filled the fluffy dough with chopped Peanut Chews. Seriously! And to top it all off, I topped these fresh doughnuts with chocolate glaze and chopped honey roasted peanuts. This is the perfect Chanukah treat but I seriously want to eat these every day.
It all begins with the perfect doughnut dough! If you are looking for the perfect fluffy dough that is easy to roll out and can be baked or fried, this is definitely the recipe for you.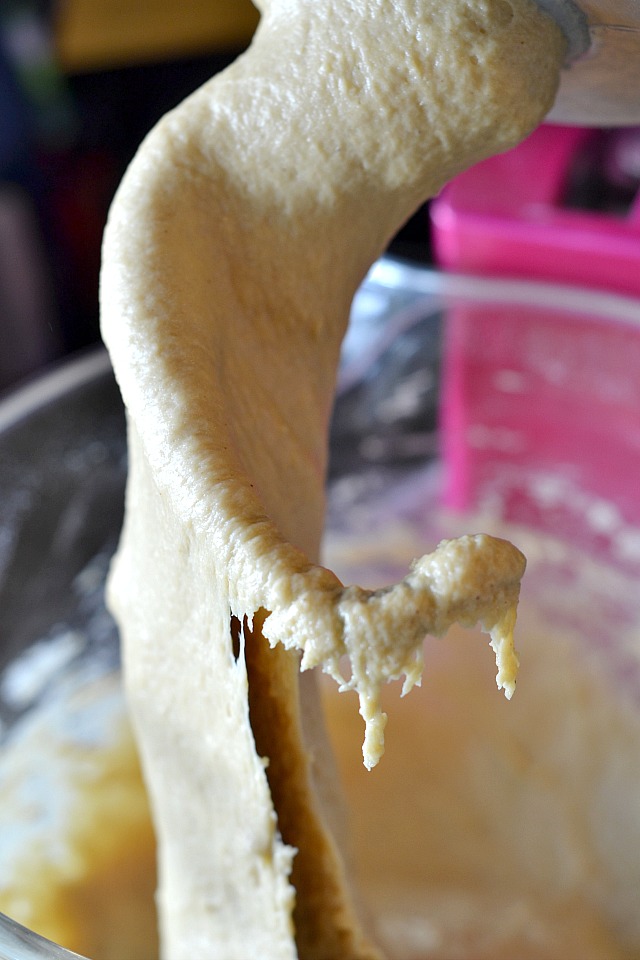 2 hours later, check out that dough! It rises perfectly every time.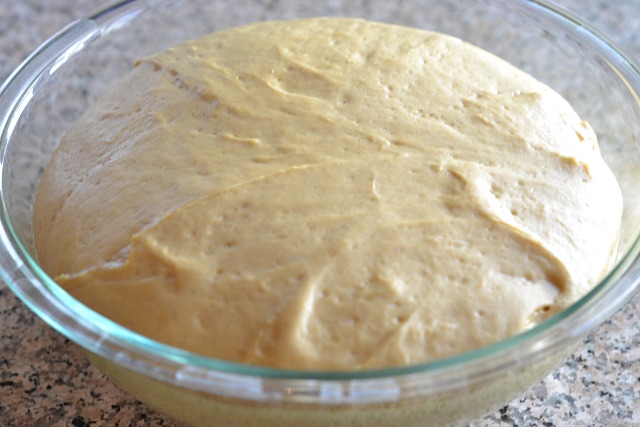 I rolled out the dough on a lightly floured surface and cut out doughnut shapes with a cookie cutter. I always love how the dough looks when it's rolled out. So smooth and pliable!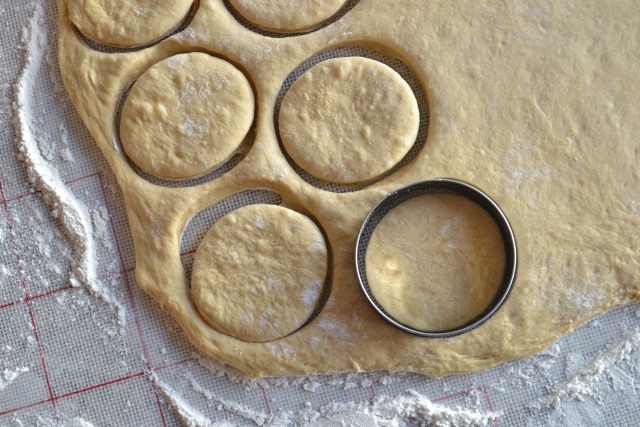 Now let's talk about the Peanut Chews for a second! I chopped and snacked at the same time. Check out that chewy center.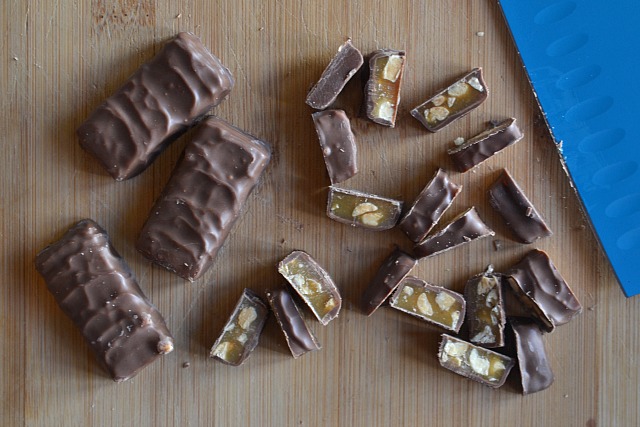 This is how easy it is to stuff a doughnut! Just put the filling in the center, brush the dough with coconut milk, soy milk or water and top with another circle of dough. And they are ready to go!
I made a simple and easy traditional chocolate doughnut glaze to mimic the chocolate that surrounds the peanuty center of the Peanut Chews. Then I topped the doughnuts with chopped honey roasted peanuts for some extra crunch.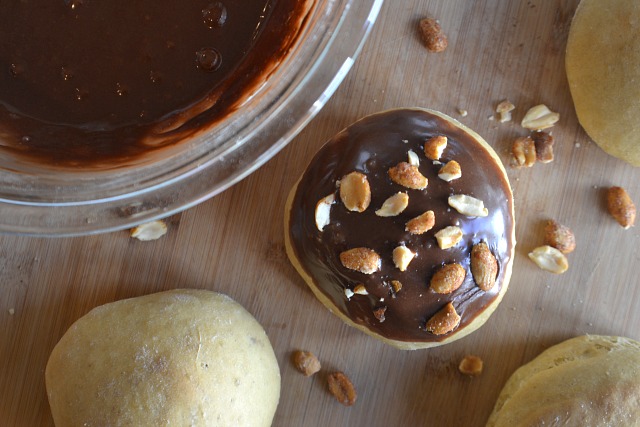 I am totally in my happy place right now!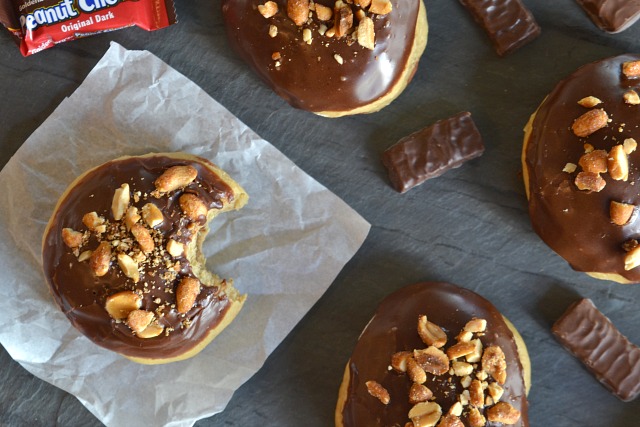 Did I mention my happy place? Oh yeah!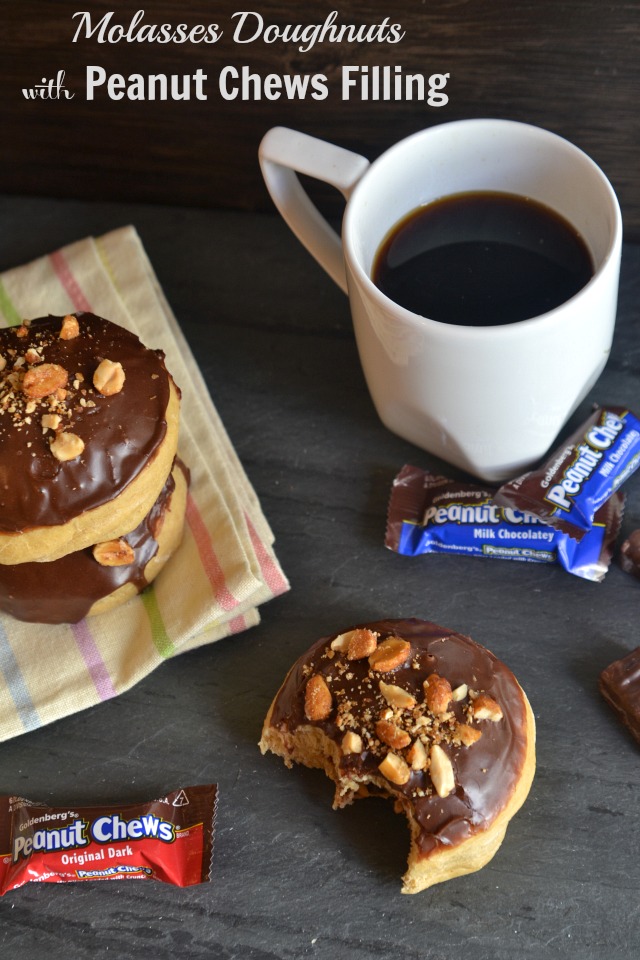 Baked Molasses Doughnuts with Peanut Chews Filling
---
Ingredients
Baked Molasses Doughnuts
1 1/2 cups coconut milk or soy milk + extra for brushing on dough
1/3 cups vegan butter
4 1/2 teaspoons active dry yeast (2 packets)
1/3 cups warm water
2 eggs, beaten
1/4 cup molasses
1/4 cup sugar
1/4 teaspoon ground nutmeg
5 cup all-purpose flour +extra for rolling out dough
1 cup chopped Peanut Chews
Chocolate Glaze
1 1/2 cups powdered sugar
4 tablespoons cocoa powder
3 tablespoons coconut milk or soy milk
2 teaspoons vanilla extract
Crunchy Topping
1 cup honey roasted peanuts, chopped
Instructions
Warm up the coconut milk in a saucepan over medium heat then add the margarine to melt completely. Cool to lukewarm.
Separately, sprinkle the yeast over the warm water, whisk and let it dissolve for 5 minutes. The top of the water has a layer of foam when it is ready.
In a stand mixer, incorporated the coconut milk mixture with the yeast mixture. Add the eggs, molasses, sugar, nutmeg and half of the flour. Using the paddle attachment, combine the mixture on low-speed until the flour is incorporated and then turn the speed to medium and beat until well combined. Add the remaining flour and beat well.
Change to the dough hook attachment on the stand mixer and beat on medium speed until the dough pulls away from the bowl and is very smooth, around 3 to 4 minutes. You want the dough to be a bit sticky since it will make for a lighter doughnut.
Transfer the dough to a well-oiled bowl, cover and let it rise for 1 hour. Once it doubles in size, punch down the dough, cover, and let it rise for 1 more hour. Then place the dough in the refrigerator and let it sit overnight to develop the flavor.
In the meantime, chop the Peanut Chews into small pieces.
When the dough is ready, roll to ½-inch thick on a lightly floured surface. Cut out rounds using a 2½-inch wide drinking glass or cookie cutter.
Place half of the dough rounds on a cookie sheet lined with parchment paper and drop a teaspoon of the chopped Peanut Chews in the center.
Brush the edges with coconut milk (you can also use water or soy milk) and place another round of dough over and press to seal tightly. You don't want that delicious filling escaping! Covered the uncooked doughnuts and let rise for 30 minutes
While the doughnuts are rising, heat the oven to 375 degrees F and stir together the chocolate glaze ingredients: the powdered sugar, cocoa powder, coconut milk, and vanilla extract. Set aside.
Bake the doughnuts at 375 degrees F for 12-15 minutes, until the bottoms just turn brown. While the doughnuts are still warm, dip the tops in the chocolate glaze, place them back on the parchment lined baking sheet and sprinkle with chopped honey roasted peanuts.
Notes
*These doughnuts are best fresh but they can be stored in an airtight container for 1 day. If you need to make them a few days in advance, don't dip them in the chocolate glaze until the day you are serving. *To make these doughnuts parve, replace the Peanut Chews filling with a parve chocolate candy or a fruit preserve filling. *Tip from the company is to freeze the Peanut Chews and smash them with a rolling pin, the chopped up peanut chews would work well to top the doughnut too.
7.8.1.2
24
https://melindastrauss.com/2013/10/24/baked-molasses-doughnuts-with-peanut-chews-filling/