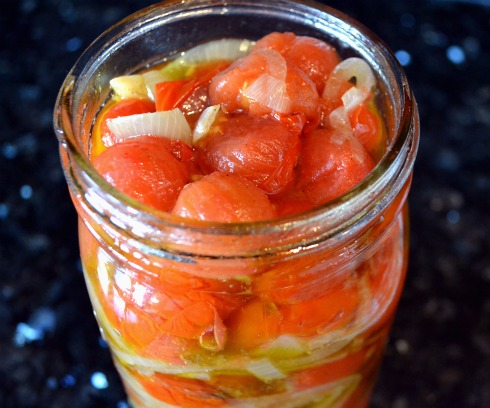 Tomates Cherry En Escabeche. Translation: Pickled Cherry Tomatoes. I LOVE preserving, pickling and candying anything I can get my hands on! So far, I've pickled nectarines, candied jalapenos and I make my own fruit preserves all the time. I even got my very own water-bath canner for Chanukah but I haven't had the chance to try it yet. The thing about pickling and preserving is that it is just so easy to do and the flavor impact is huge. So if you ever have extra fruits or vegetables in your fridge, just preserve them! On this particular day, I had a few pints of cherry tomatoes and this delicious Latin America inspired Escabeche was born.
Tomates Cherry En Escabeche Ingredients
1 cup olive oil
1 onion, thinly sliced
6 cloves garlic, peeled and thinly sliced
2 bay leaves, cut in half
1 cup apple cider vinegar
1/2 tsp ground coriander
1/2 tsp ground cumin
1/2 tsp whole peppercorns
2 tsp ground thyme
1/4 tsp hot pepper flakes
2-3 pints (4-6 cups) cherry tomatoes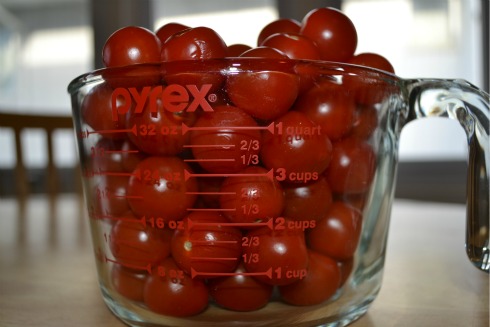 I heated half of the olive oil in a large pot over medium heat then added the onions, garlic and bay leaves.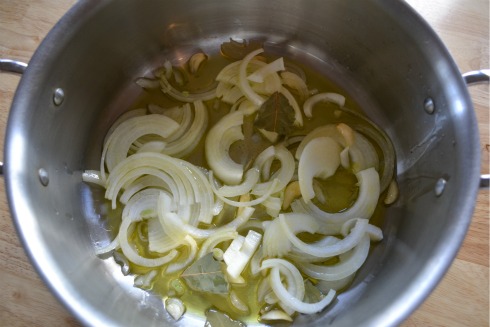 I cooked until the onions were translucent but not brown, around 8-10 minutes. I added the vinegar, remaining oil, spices and tomatoes and combined. I brought the mixture to a simmer, covered and cooked for around 10 minutes, stirring occasionally, until the tomatoes were starting to pop out of their skins. I took the pot off of the heat and let cool to room temperature. That's it!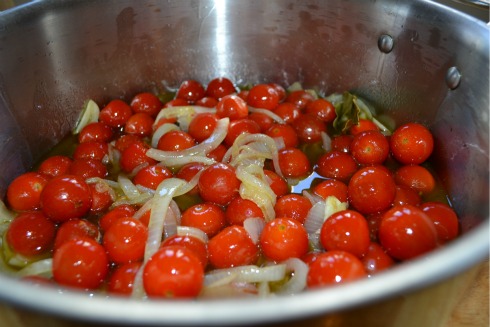 The Escabeche Tomatoes packed a major punch of flavor! A bit sour from the vinegar, sweet from the tomatoes and bursting with the flavors of cumin, coriander, thyme, pepper and garlic! You can serve the pickled tomatoes as a side dish at any temperature or you can cook with your choice of protein. For the weekend, I spooned half of the Escabeche tomatoes over some chicken on the bone and baked for an hour at 350 degrees. I can't wait to bake them over fresh-caught salmon! Yup, now I'm salivating.